At any given moment, several of the US Navy's Nimitz class aircraft carriers are sailing the world's oceans. Weighing in at 90 thousand tons, these massive vessels need a lot of power to get moving. One would think this power requires a lot of fuel which would limit their range, but this is not the case. Their range is virtually unlimited, and they only need refueling every 25 years. What kind of technology allows for this? The answer is miniaturized nuclear power plants. Nimitz class carriers have two of them, and they are pretty much identical to the much larger power plants that make electricity. If we can make them small enough for ships, can we make them small enough for other things, like airplanes?
Nuclear Power 101
Nuclear reactors use the controlled splitting of uranium atoms to produce energy. This energy is transferred into water as heat. The water is kept under high pressure, which keeps it from turning into steam, and allows it to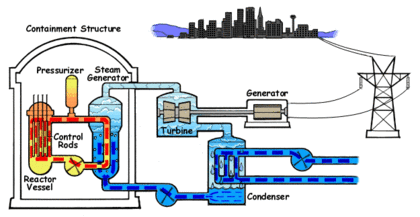 become super heated. The super heated water is moved to a heat exchanger, where it heats another source of water to produce steam. This second heat exchanger not only allows for transfer of energy, but also isolates the radioactivity from the rest of the system. The non-radioactive steam from the second heat exchanger is then used to turn a turbine that produces electricity. The steam eventually heads to a condenser, where it turns back into liquid water and is moved to the second heat exchanger.
So now we know how nuclear power works, we get to work on the fun stuff! Our job is to discuss how we can make it really really small and cram it into an airplane. And then examine the consequences of such technology.
The Heat Transfer Reactor
Jet engines use spinning blades to compress air inside a combustion chamber. The compressed air is then sprayed with a fossil fuel and ignited with a spark. The resulting release of energy is expelled from the engine, producing thrust. A nuclear powered jet engine is pretty much the same minus the combustion chamber. Air is compressed and sent to a plenum. A nuclear reactor heats the air to a very high temperature. The super heated air is then sent to a turbine where it produces thrust.
The US government built a nuclear powered jet engine in the 1950s. It was called the Heat Transfer Reactor Experiment – 3, or HTRE-3 for short. It used liquid salt as opposed to water for the heat exchanger. The salt could get much hotter and was more efficient in the transfer of energy to the air.
The idea behind the nuclear powered jet is similar to the nuclear powered ship – no need to stop for gas. A nuclear powered jet would have an unlimited range. However, the advent of the ICBM made such an aircraft obsolete for military purposes.
What About Commercial Jets?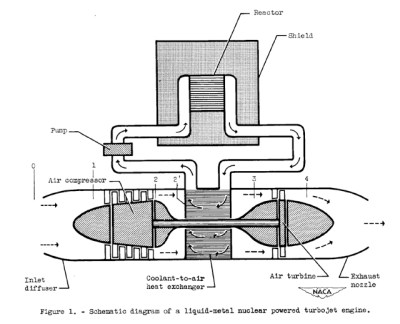 While it might not be practical to make a nuclear powered jet to drop bombs on people, what about for transporting people?  With today's technology, is it possible to build a small, safe nuclear jet engine that could be used on a commercial airliner? It's difficult to imagine that it would not be. Material science is much more advanced today than it was in the 1950s. We have the ability to perfect a smaller nuclear engine. The question is – why aren't we?
Safety
The first thing that comes to mind is what happens if there is a catastrophic incident that causes the plane to break apart mid flight. How do you contain radioactive material during such a disaster? Let us rewind to the fall of 1997 when the Cassini spacecraft was getting ready to launch. At its heart was 37.2 kilograms of plutonium 238. You can imagine the controversy with strapping radioactive material atop a giant controlled

explosion.  NASA ensured that if the rocket exploded, the radioactive materiel would be contained. Cassini of course went on to be a very successful mission that unlocked many of Saturn's secrets. We were able to mitigate the risks and dangers with Cassini. We should be able to do the same with a much more stable flight vehicle – a jet plane.
It's Not Weapons Grade
The second thing that comes to mind is somebody stealing one and making a bomb. This is where we need to point out the difference between weapons grade and reactor grade uranium. You might have heard these terms used in the news recently, as they are key points to the Iran nuclear deal. Natural uranium is roughly 99% U238 and 1% U235. The U238 isotope will not work for nuclear power or bombs. You need a higher concentration of the U235 isotope. A much higher concentration of U235 is needed for a bomb, while a reactor requires a much lower concentration. The process of concentrating the U235 isotope is known as enriching.
Enriching uranium is difficult to do because the properties of the U235 and U238 isotopes are very similar. The most common technique separates the two by weight using high-tech centrifuges. This is the sticking point with the Iran deal. Nobody cares if they have reactor grade uranium. The deal is to prevent them from making centrifuges capable of separating enough U235 out of it to make a bomb.
So in short – you don't have to worry about someone making a bomb out of the uranium from a nuclear powered jet engine.
Impact of Nuclear Powered Commercial Jets
Let us close with thinking about the impact of a safe nuclear powered jet on society. Moving away from fossil fuels is a popular movement. If we could convince everyone that it's safe, it would have great support from many national leaders. Also, fuel cost is one of the airline industry's greatest expenses. A plane that doesn't require fuel would be a huge cost saver, allowing for cheaper plane tickets for all of us.
Now it's your turn. Nuclear Powered Commercial Jet – Yes or No?