In just a few short days, Fallout 4 will be released and a substantial portion of the Hackaday staff will be taking the day off. As you would expect, a lot of people with 3D printers, soldering irons, and far too much time on their hands are getting pumped for the Fallout release. Here's a few Fallout builds we've found over the past few weeks:
Pip-Boys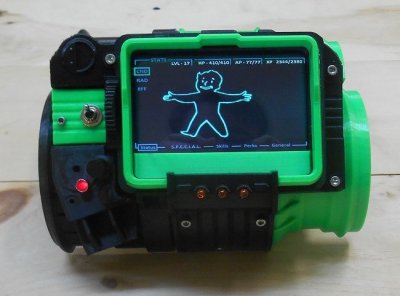 The most iconic thing you'll find in a Fallout game is the Pip-Boy, the UI for the player and a neat wrist-mounted computer (that somehow has a CRT in it, I guess) for the player's character. Hackaday's own [Will Sweatman] built his own Pip-Boy 3000 that's completely functional. The build uses a 4.3 inch touch display, a 10 position rotary switch, and a bunch of 3D printed parts.
Elsewhere on Hackaday.io, [Karl] is working on a functional Pip-Boy controller for Fallout, and [cody] built one with a Raspberry Pi. Of course, if you're super special and have two thousand dollars to blow, Bethesda released a limited-edition Pip-Boy edition of Fallout 4 that's compatible with most cell phones.
The Not Pip-Boys
There's more to Fallout than just wrist-mounted computers, and for the true aficionados, there are gigantic gear-shaped doors. [TreyHill] has a partially finished basement with a gaming room tucked behind his very own vault door. The door itself is built out of plywood and rolls along a gear rack mounted to the floor. Will it hold up to a nuclear blast? Probably not. Is it up to code? It looks cool, at least.
[Lilykill] on Thingiverse is extremely capable with a copy of solidworks and produced a bunch of 3D models from the Fallout universe that includes power armor, ray guns, more Pip-Boys, plasma grenades, and a Nuka-Cola truck.
Fallout 4 for the Apple II
Fallout 4 will be available for the PS4, Xbox One, and PC, leaving out a large contingent of retro gamers. Fear not, lovers of the 6502: there's' a version for the Apple II:
This tribute to both the Apple II and Fallout was made with the Outlaw Editor, an SDK for pseudo-3D game development on exceedingly old hardware. There's actual ray casting happening in this tribute, and it works just the same as Wolfenstein 3D or the like.