Best. Conference. Ever. And believe it or not, I don't think this is a biased opinion.
I am of course talking about the Hackaday SuperConference – the first full-blown hardware conference we've ever put together. I had very high hopes going into this and was still utterly astounded by how the two-day event turned out. Let me give you three reasons why it was spectacular: The people, the people, the people.
The Presenters
Our call for proposals didn't go out months ahead of time, instead it was mere weeks, yet we were flooded with around 160 proposals. It was a tough proposition to whittle this down to 30+ talks and workshops, but we had to because of time and space limits. Every presenter made it count. We are honored by this diverse set of people who laid down an enthralling collection of talks about hardware creation.
Just to give you a taste: the first talk, presented by Shanni Prutchi, covered the hardware used in quantum entanglement research. Quantum Entanglement Research! This highly technical subject might seem like a lot for a Saturday morning, but Shanni has a gift for explaining her work. Every person in the room was engaged throughout and stayed this way through the entire weekend.
SuperCon was a hardware conference that was actually about hardware. We could tell something magical was happening when we had to hunt down more chairs (borrowed from an off-site venue) to accommodate all of the people who wanted to hear the presentations. We know that the hardware community yearns for talks that go far beyond being shiny and deliver the details you need to grow your own set of engineering talents. The extra-chair anecdote proves the need for more opportunities to learn and interact with experts of hardware creation.
Don't worry, we recorded every single one of these fantastic presentations. It will take time to edit the content but it will be freely available soon. If you're excited about your own work and can speak about it with authority, you need to be at next year's Hackaday SuperConference. I promise we'll call for proposals further in advance for the next one, but start your talk prep now. You won't want to miss it.
Conspicuously missing from our story so far are the hands-on workshops which ran concurrently with the talk track. Every workshop was sold out, and every extra chair was occupied by those who wanted to audit. Much of the workshop material is already online, and we'll get a dedicated post out to help link you with that information.
The Attendees
Talk about the most amazing group of people to spend 30 hours with over two days. The 300 people who packed Dogpatch Studios to capacity made it impossible to have anything but a great time at the conference. These are all people with passion for hardware – I was tripping over fascinating conversations at every step.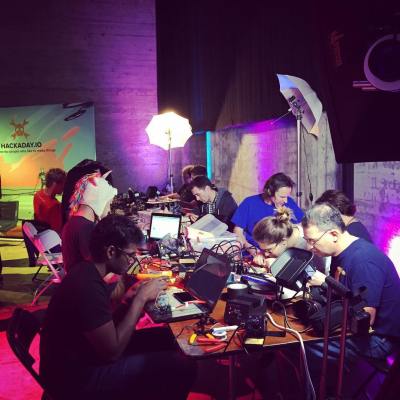 We blocked out a few places in the schedule for lightning talks. Everyone was encouraged to sign up and participate. Since the majority of people at the conference brought hardware to show off, these blocks were as popular as the more formal presentations.
This is also how the badge hacking was presented. Conference badges were PCBs with no components. Off to the side were tables strewn with components and tools so that you could work on your badge and watch the talks at the same time. Those seats were constantly occupied. As the end of the day approached on Sunday, we had around twenty people present what they had created on this blank slate. And yes, we'll be covering this in-depth soon so stay tuned.
The Workers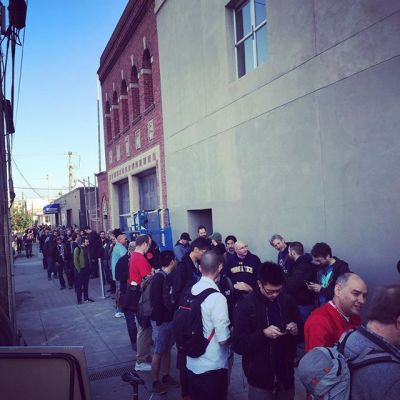 You can have talented presenters and eager attendees, but it takes a lot of hard work to keep everything running smoothly and bring the two groups together.
We had an army of volunteers and a gaggle of staff who worked together like a high-functioning machine. Registration was quick and efficient and transitions between workshops were smooth and calm. The WiFi worked (conferences are notorious for not having connectivity) and the speakers had the A/V resources they needed. There were plenty of beverages, snacks, and meals. The workers of the SuperCon — all of them hardware-lovers too — had a personal stake in pulling this off. Mission accomplished. You all rock!
We Are a Community
The SuperConference felt like home. New acquaintances treated each other like life-long friends. Everyone brought their hardware passion and treated one another as equals. And as has been proven time and again, Hackaday is a community and great things happen when we all get together with purpose. Thank you, thank you, thank you to everyone who made this possible.