Do you see the patterns everywhere around you? No? Look closer. Still no? Look again. OK, maybe there's nothing there.
[Oona Räisänen] hears signals and then takes them apart. And even when there's nothing there, she's thinking "what if they were?" Case in point: could one hypothetically transmit coded information in the trilling of a referee's whistle at the start of a soccer match?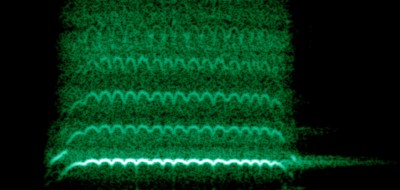 To you, the rapid pitch changes made by the little ball that's inside a ref's whistle sounds like "trilling" or "warbling" or something. To [Oona], it sounds like frequency-shift key (FSK) modulation. Could you make a non-random trilling, then, that would sound like a normal whistle?
Her perl script says yes. It takes the data you want to send, encodes it up as 100 baud FSK, smoothes it out, adds some noise and additional harmonics, and wraps it up in an audio file. There's even a couple of sync bytes at the front, and then a byte for packet size. Standard pea-whistle protocol (PWP), naturally. If you listen really closely to the samples, you can tell which contains data, but it's a really good match. Cool!
[Oona] has graced our pages before, naturally. From this beautiful infographic tracing out a dial-up modem handshake to her work reversing her local bus stop information signs or decoding this strange sound emitted by a news helicopter, She's full of curiosity and good ideas — a hacker's hacker. Her talk on the bus stop work is inspirational.. She's one of our secret heroes!