[Akiba] over at FreakLabs just put up a detailed tutorial outlining how to control and sequence lighting wirelessly using an Arduino and Vixen lighting sequencer software.
For those that don't know [Akiba], he's the guy behind Wrecking Crew Orchestra (TRON Dance) and their EL wire costumes. [Akiba] hacks on his projects at Hacker farm out in rural Japan.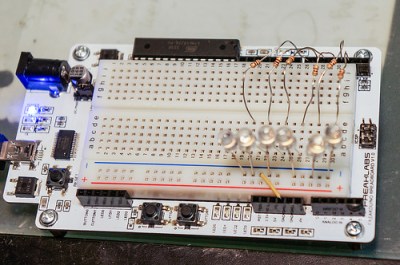 In the tutorial, he sets up a simple 6 LED circuit on a Fredboard (an Arduino compatible board with integrated breadboard). [Akiba] then describes configuring the Vixen sequencer software to control the Arduino, providing simple example code to decode the Vixen serial protocol. Finally [Akiba] shows how to use the ChibiArduino protocol stack to build a wireless illumination system.
[Akiba] has used these tools in many stage performances including with the Wrecking Crew Orchestra (shown above) and the world number 1 flair bartending crew, UPT.
This tutorial is particularly awesome, as it includes both step-by-step videos and a text reference. The videos give a great overview of the process, while the text provides a handy reference to refer to as you hack on your own illumination projects.
Thanks for the writeup [Akiba]! With Christmas just round the corner we hope to see readers using these techniques in their own festive illuminations soon!