Quick. What's the difference in conductivity between silver and copper? Today, that's easy to find out. You just ask Google (maybe even out loud if you have a phone handy). But it wasn't that long ago that you needed another option. Before the Internet age, a big part of being "that guy" (or gal) was knowing where to go to find things. You had to be a master of the library's reference section, know what might be in an encyclopedia or an almanac.
However if you were a hardcore math, science, or engineering geek you probably had, at least, one edition of CRC handbooks. Today, we usually think of CRC as cyclic redundancy check, but back then it was the Chemical Rubber Company.
The Chemical Rubber Company dates back to 1903 when brothers Arthur, Leo, and Emanuel Friedman were selling rubber lab aprons in Cleveland, Ohio (Arthur, apparently, had been in a similar business from 1900). In 1913, the brothers offered a short (116-page) booklet called the Rubber Handbook free with the purchase of a dozen aprons.
The Rubber Handbook grew into the Chemical Rubber Companys's big book, the CRC Handbook of Chemistry and Physics. You can still actually buy several of the CRC handbooks, and the big one is even online now (although you need a subscription). These used to be staples on engineer's desks along with databooks, IC Masters, EE Masters, and maybe even a big green set of Thomas' Register books.
What's Inside?
Not everything in the big CRC Handbook is useful to people like us. After all, some of it is pretty esoteric chemistry. But if you need to know things like conductivity of copper or the melting point of aluminum oxide, you are in business. What's the resistivity of graphite? There's a whole paper on that topic that answers the question in detail, depending on exactly what kind of graphite you have.
In fact, the property of solids section is one I have used quite a bit in some of my previous jobs. There are dielectric constants and information on secondary electron emission that used to be important to me. Modern versions even have information on superconductors.
Section 17 has a glut of mathematical tables. You can find constants, of course, but also tables for algebra, geometry, trig, and calculus. If you need to work out a series or a transform (like a Fourier transform), the book covers that too. There is, by the way, an entire CRC handbook just for math. That was another staple in my library for many years.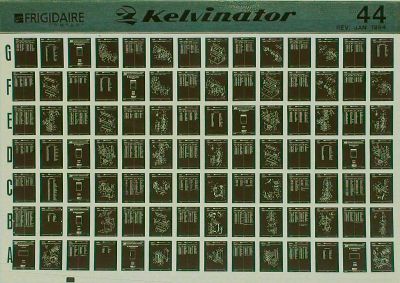 Even though you need a subscription to view the contents of the book, you can see the table of contents online to get an idea of what it contains. Keep in mind this was just one of the books you needed to be an in-the-know engineer in the old days. That led to a problem: what to do with all those books (and magazines)? Many people switched over to microfiche — cards with 16mm microfilm images of book pages you could read (and sometimes print) with a special machine.
I Come to Bury Books…
You don't see these books as often as you once did. Partially that's because you can get them online or on eBook readers now. Mostly, though, I think it is because Google can answer most of the questions you'd ask of a book like this. Granted, you have a pretty good idea the CRC Handbook is correct and any answer you find on Google, you need to make a judgment on how likely it is to be correct. Still, there are plenty of reputable sources on the Internet that can replace most of the information in these books. Encyclopedias have suffered a similar fate.
They aren't cheap either unless you can find an old used one. A quick check on Amazon told me that the price of a new or electronic copy was about $150 and used ones weren't much less. I'm not above paying that for a book, but it needs to earn its space on my bookshelf at that price point.
Maybe we are better off without the CRC Handbooks, the IC Masters, and the other reference books? I can't argue that I want to go back. But there is one thing I miss. Skimming through any of these books were likely to take you down some rabbit holes, some of which might turn out to be unexpectedly interesting or significant.
I can't count the times that something has come up, and I've thought, "Oh yeah, I saw something about that the other day…" With the Internet, you tend to be focused. You ask for a result, and you are very unlikely to glimpse something almost entirely unrelated that might come in handy later. I've often had the same thought about encyclopedias. While Wikipedia is great (at least, often), you'll never find yourself looking up, say, elasticity, and wind up reading about elaterium, a drug someone makes from the squirting cucumber plant (which is something else I had to look up).
Get it While You Can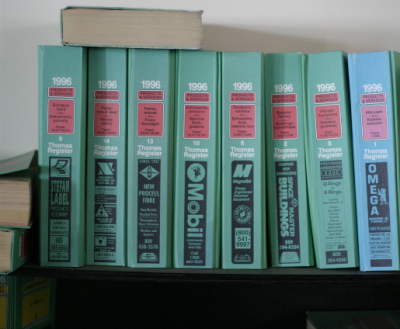 Even an old copy of a CRC handbook can be pretty useful. Most of the data in them doesn't change from year to year, although new things get added and some things get rearranged. I'm sure there are cases where some scientific development caused data to change, but there shouldn't be very many of those changes. If you aren't sure, check out the library–they still have one, most likely. You can often find CRCs at used bookstores too, particularly around universities.
Some of the other old reference books are probably a little more dubious in value. An IC Master, now, would be horribly out of date as would most vendor's printed data books. The same goes for old EE Masters, Thomas' Registers, and the like. Companies come and go. Chips and components come and go. But math and physical properties don't change that much.
Earlier, I wrote about how we need to adapt to the new reality of having Internet information at your fingertips. The printed reference book is a casualty of that movement, and I doubt it will come back. However, just because it has been superseded doesn't mean you can't learn something from it.
Photo Credits:
Thomas Register photo: [sixmilliondollardan] CC-2.0
Microfiche photo: [I, Ianare] CC BY-SA 2.5, via Wikimedia Commons