Over the last few weeks we've waded through the debate of Drone restrictions as the FAA announced, solicited comments, and finally put in place a registration system for Unmanned Aerial Systems (UAS). Having now had a week to look at the regulation, and longer to consider the philosophy behind it, I don't think this is a bad thing. I think the FAA's move is an early effort to get people to pay attention to what they're doing.
The broad picture looks to me like a company trying to get users to actually read an End User Licensing Agreement. I'm going to put the blame for this firmly on Apple. They are the poster children for the unreadable EULA. Every time there is an update, you're asked to read the document on your smartphone. You scroll down a bit and think it's not that long, until you discover that it's actually 47 pages. Nobody reads this, and years of indoctrination have made the click-through of accepting an EULA into a pop-culture reference. In fact, this entire paragraph has been moot. I'd bet 99 out of 103 readers knew the reference before I started the explanation.
So, we have a population of tech adopters who have been cultivated to forego reading any kind of rules that go with a product. Then we have technological advancement and business interests that have brought UAS to the feet of the general public both with low costs, wide availability, and pop-culture appeal. What could possibly go wrong? Let's jump into that, then cover some of the other issues people are concerned about, like the public availability of personal info on the drone registry.
Idiots are More Dangerous than Criminals
One of the common arguments against any type of regulations is that criminals don't follow laws. Great, I'll give that one to you. It's correct at least some of the time and is fully applicable in this case.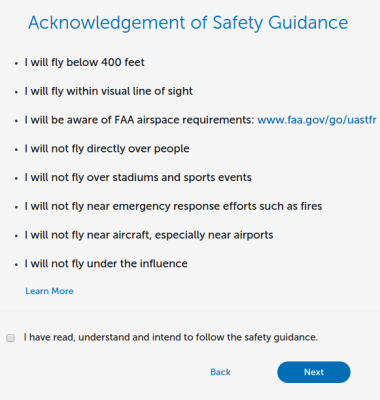 I assert that in the case of UAS on the market right now, we're in far more danger from idiots than we are from criminals. Sure, the use of drones to traffic drugs across the US/Mexico border is well documented. But that doesn't cause direct harm. In that case, the criminals are trying to stay out of everyone's way to avoid being caught.
On the other hand, people flying UAS over fires because they bought a drone large enough to carry their fancy DSLR cause a direct threat to pilots of fire-fighting aircraft, and an indirect threat to people and property near the fires if this causes the aircraft to be grounded. The same can be said for people flying drones over crowds of people. Imagine this drone crash at a concert where the ground is packed with people.
And so we have the eight simple rules to the right. This is the second step of the FAA drone registration, right after making an account and entering your address. These are devastatingly easy to understand, and even the click-throughs are concise and well written. One of the links found on that page is the explanations of restricted airspace, and the "Learn More" link goes to a simple set of Dos and Don'ts.
Most people don't want to cause problems, and if they are properly educated they will work to avoid breaking these rules. This is a reasonable way to educate them.
Your Right to Privacy
There is one argument I've heard against this registry that I think holds water, and that is the privacy concern. The FAA plans to make the drone registration database publicly searchable, and the search results will include owner names and addresses.
That kind of sucks. In general, I would estimate that the vast majority of people prefer not to have their home address be publicly searchable. That being said, this is certainly not the first place that information is available. There are a myriad of people search websites that will be happy to give out your personal information for a price. And many municipalities (mine included) have already made address information publicly searchable through property sales and property assessment records.
However, I'm not one to go along with the argument "it's already broken so it can't be broken any more". I would like to hear your take on the need for publicly searchable name and address data. What value does that have? Is there a way to get that value without opening up a huge database of info? There are only two reasons I can think of: quick contact in an emergency  and getting a lost drone back to an owner. The former would require spotting and recording the registration number from afar, and the latter is easy to accomplish by putting an email address on the drone itself.
This Can Save the Hobby
For at least a year I've seen stories of people doing unwise things with their drones. These were inevitably followed by comment threads begging people not to replicate bad behavior because the FAA would crack down and end the hobby.
At this point I think the FAA is acting in the same vein as those commenters. They have not outlawed anything. Tiny toy UAS (0.55 lbs and less) can still be purchased and flown without any other action. Larger UAS that can pose a real threat to aircraft require registration — which I argue is just to get people to read the safety rules — and even the big boys above 55 lbs. are still allowed by certification through community based modeling organizations.
Something had to be done and this is the biggest compromise with the widest benefit of any plans that I have heard proposed. Go forth and fly your drone, don't be an idiot about it, and we can all continue to have a lot of fun!