Battery technology is a constant chemical war between the laws of physics and the desire of engineers to make devices smaller. On one side, the laws of physics declare that there are limits to how much energy you can store inside a battery, and on the other side are the engineers looking for ways to sneak around these laws. For many devices, the best compromise between these two sides is the lithium ion battery, usually abbreviated to Li-ion.
Chemistry
As the name suggests, the Li-ion battery is based around the chemistry of lithium. The least reactive of the alkali metals, lithium atoms are small and light, with an electron that is just itching to leave, forming a positive ion. This electron with wanderlust also gives them high electrode potential, meaning that an lithium infused electrode can create a relatively high voltage: about three volts.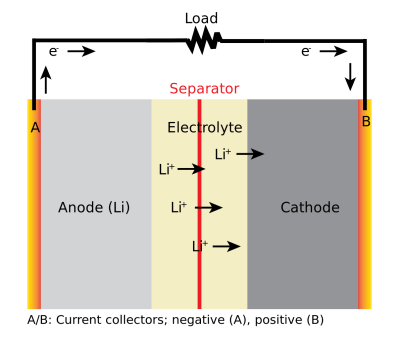 A Li-ion battery is composed of two electrodes with an electrolyte between them. For most, the negative electrode is made of graphite, while the positive electrode is coated with lithium in the form of a lithium oxide, usually combined with phosphate, manganese or cobalt. The electrolyte between them is usually an organic solvent, with a lithium salt dissolved in it to create plenty of lithium ions floating between the two electrodes. These two electrodes are also separated by a permeable layer that allows the ions through but keeps the electrodes from touching each other.
When the battery is charged, the lithium ions move into the negative electrode (called the anode) becoming trapped in the crystal structure of the graphite. As the battery discharges, the ions move back towards the positive electrode (the cathode), creating the electrical energy flow. Charge the battery up, and the ions flow back into the graphite. This process is quite efficient: you usually get out between 80 and 90 percent of the energy that you put in released as electrical energy.
These advantages have meant that Li-ion batteries have become the preferred type for many modern devices, from smartphones to electric cars. In fact, many of these devices will use exactly the same batteries: take apart the batteries of a Tesla electric car, and you'll find hundreds of the same 18650 batteries used in devices like portable batteries and e-cigarettes.
Danger, Danger!
So, the batteries are light, efficient, and can hold a lot of energy. Why aren't they used everywhere? The problem is that Li-ion batteries are, in effect, a chemical fire waiting to happen.
First, this chemistry needs to be carefully controlled. If you overcharge a Li-ion battery, they can explode. To prevent this, most Li-ion batteries are fitted with controllers that limit the flow of energy in and out. When the charge reaches a certain level, this controller stops the flow of energy, shutting down the battery or the charging process.
Second, if  a Li-ion battery is punctured, or has a mechanical failure that compromises the separation between the two electrodes, the two terminals become short circuited, heating the battery and releasing the lithium. This starts to react, reaching a temperature of up to 500 C. This melts the other materials in the battery, exposing more lithium, which heats up, causing a cascading reaction. In other words, the battery catches fire and burns itself up.
These problems are multiplied when Li-ion batteries are being stored or shipped. Imagine a warehouse full of these batteries, or an airplane hold full of batteries being shipped. If a single battery fails, or something else catches fire and exposes these batteries to high temperatures, you have a problem.
The batteries are designed to prevent this from happening by sealing the chemistry in a tough polymer pouch that is hard to tear, which also allows the batteries to expand slightly as they charge. (Emphasis on "slightly". The battery in the headline is past the end of its life.) This also gives rise to the name "lithium polymer" that is used for some batteries, especially those used in drones and RC models that need to stand up to rough treatment.
This is also why Li-ion batteries are sometimes difficult to ship. Airlines have stopped accepting them as cargo on passenger flights, and UPS and FedEx have introduced new rules about how loose batteries must be packed for shipping.  Any package that contains more than eight batteries also has to be specially marked as dangerous cargo.
Most airlines don't restrict carrying Li-ion batteries in carry-on baggage, as long as they are fairly small. United Airlines, for instance, allows batteries with capacities of up to 100 watt hours inside a device, or two additional batteries that are properly packed to prevent short circuits. The TSA allows small batteries installed in devices in checked baggage, but restricts loose Li-ion batteries. So, if you are taking a prototype or spare batteries on a trip, best to remove the batteries and carry them on with you.
The Future
Li-ion batteries are far from reaching perfection, though, as there are lots of companies looking to increase their energy density using technologies such as
nanowires
. There are also tweaks to the chemistry, such as the
lithium iron phosphate
battery, that holds a bit less energy, but which can be charged and discharged for more cycles before losing capacity and is significantly less likely to go up in flames when overcharged. That's a big advantage for solar devices, and LiFePo batteries are available right now. The new
lithium-sulfur batteries
also hold some promise, although they are not yet available commercially. So, the battle to jam more and more energy into a battery continues. Hopefully it won't end in a big bang.
(Thumbnail image of battery, with quarter for scale, courtesy
Sparkfun
.  Headline photo of expanding iPhone battery CC BY-SA 3.0 by
Mpt-Matthew
.)