Intel made an appearance at the recent summer X Games in Austin, TX with the Curie, a gadget for sensing the motion and position of skateboarders and BMXers. The Curie, attached to the bikes or helmets, measured the dynamics of the tricks performed by the participants.
An Intel 32 bit Quark SE system on a chip sent the telemetry data in real-time using Bluetooth. The module contains an accelerometer and gyroscope to capture all the twists, turns, and tumbles of the athletes. An analysis of the data was presented as part of the on-screen graphic displays of the events.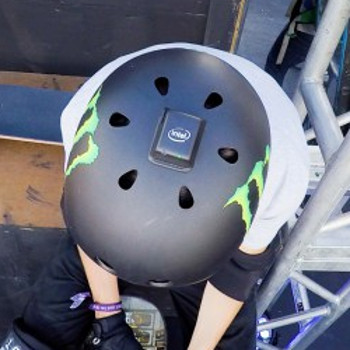 An interesting results of the measurements is seeing the 20 g landing spike experienced by riders when they land. A rider weighing 175 lbs is landing with a force of 3,500 lbs. Since it's instantaneous the riders aren't breaking bones, but they say it doesn't feel good.
As sensors, processors, and wireless communications gets smaller and more integrated measuring sports performance is going to have big impact on sports. Viewers will be inundated blessed with more data to view. Athletes will use the data to tune their performance. We've seen another example of this with the Puma BeatBot for training runners.
(Now where is that bag of money from Intel?)