One of the biggest challenges for a company that holds invaluable data is protecting it. At first, this task would seem fairly straightforward. Keep the data on an encrypted server that's only accessible via the internal network. The physical security of the server can be done with locks and other various degrees of physical security. One has to be thoughtful in how the security is structured, however. You need to allow authorized humans access to the data in order for the company to function, and there's the rub. The skilled hacker is keenly aware of these people, and will use techniques under the envelope of Social Engineering along with her technical skills to gain access to your data.
Want to know how secure your house is? Lock yourself out. One of the best ways to test security is to try and break in. Large companies routinely hire hackers, known as penetration testers, to do just this. In this article, we're going to dissect how a hired penetration tester was able to access data so valuable that it could have destroyed the company it belonged to.
Information Gathering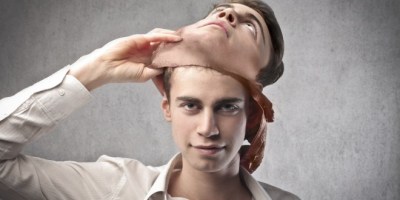 The start of any hack involves information gathering. This is usually pretty easy for larger companies. Their website along with a few phone calls can reveal quite a bit of useful information. However, you can be assured that any company who has hired a pen tester has taken the necessary precautions to limit such information.
And such was the case for our hacker trying to gain access to the ACME Corp. servers. Her first target was the dumpsters – dumpster dives have been proven to unearth a trove of valuable information in the past. But the dumpsters were inside the complex, which was guarded by a contracted security firm. Through a bit of website snooping and a few phone calls, she was able to find out the department that was in charge of trash removal for the company. She then placed a phone call to this department. Using a social engineering (SE) technique known as pretexting, she pretended to be with a trash removal company and wanted to submit a quote to service their business. Using another SE technique called elicitation, she was able to find out:
that trash collection took place on Wednesdays and Thursdays
the total number of dumpsters
that there was a special dumpster for paper and technology trash
the name of the current waste removal company – Waster's Management
the name of the employee in charge of the waste removal – [Christie Smith]
Dumpster Dive
Armed with this information, she went to the Waster's Management website and grabbed their JPEG logo.
Within a few days, she had a shirt and hat with the logo in her hands. She called the security department and said she was with Waster's Management, and that [Christie Smith] had told her one of the dumpsters was damaged, and she needed to take a look at it before the next trash removal.
The next day, wearing the shirt and hat she had ordered online, she was given a badge from security and allowed access to the dumpsters. Now, any hacker worth her weight in PIC16F84's already knows what dumpster she dove into. It didn't take her long to walk away with several hard drives, a few USB drives and some useful documents. She was able to gain knowledge of an upcoming IT contract work, the name of the CFO, and the name of a server with some level of importance – prod23.
Hacking the Server
With some more SE, she was able to find out when the IT work was scheduled. It was after hours. She showed up a bit late and was able to walk right through the front door by claiming she worked for the IT contract company. She then shifted roles and pretended to be an employee. She approached one the real IT contract guys, and said she worked for the CFO, [Mr. Shiraz], and asked if he knew to be careful with the prod23 server. With more SE, she was able to find out the prod23 server was off-limits, encrypted, and only accessible by specific admins.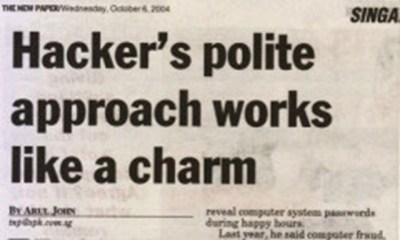 She was able to access an admin office, and it was there she would don her black hat. She booted the computer with BackTrack via USB and installed a key logger. She made an SSH tunnel to her personal server where she could dump the contents of the key logger, along with some other shells. Now, this is where things get interesting. She opened Virtual Box and used the computer's hard drive as the boot medium. The VM booted the OS, and she hid all of the screen decorations to make it look like the target OS was running. The admin would log in without a clue, and our hacker would get their username and password through the key logger.
Once the login information came in, she was able to access the admin's computer, and from there the prod23 server. You can imagine the look on the faces of the top executives for ACME Corp when our hacker handed them a copy of the keys to their kingdom.
Social engineering is human hacking, and a dark art in itself. Our hacker in this story would have never been able to even get close to the server if she did not have SE skills. No matter how secure you make something, so long as you allow humans access to it, it's vulnerable to attack. And then it's down to how well-trained your people are in repelling these kinds of intrusions.Just ask Target.
You can find the full story in the source below.
Sources
Social Engineering, The Art of Human Hacking, Chapter 8, by Christopher Hadnagy, ISBN-13: 860-1300286532