How often have you stood in the supermarket wondering about the inventory level in the fridge at home? [Mike] asked himself this question one time too often and so he decided to install a webcam in his fridge along with a Raspberry Pi and a light sensor to take a picture every time the fridge is opened — uploading it to a webserver for easy remote access.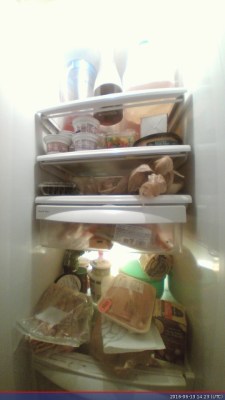 If building IoT products is your daily bread, you will probably be able to replicate [Mike's] build in a matter of hours, but [Mike] is kind of new to programming, electronics and especially the Raspberry Pi. Being an unstoppable tinkerer, and with a bit of help from the open source community, he made it all the way through the project to enjoy great success. He even installed a little buck converter that regulates the 13.5 V provided by the fridge's power supply down to 5 V for the Pi and its peripherals.
All the cables and electronics were eventually hidden away behind the white plastic cover, where the build now provides everyday usefulness. The fridge also has its own website –  inourfridge.com – where it feeds the public interest for [Mike] and [Lauren's] fridge content.
Behind [Mike's] build stands the realization that fridges are more than just white boxes to slow down the deterioration of food. They are social, collaborative food-sharing and consuming platforms, jointly used by family members, friends, co-workers, and nightly thieves. Of course, they need to be hooked up to the web. Enjoy the video of [Mike's] build below!
Thanks to [Hassi] for the tip!