Summer is now in full swing, which means that mowing the lawn once a week is starting to get old. So why not build a robot do it for you? That's what [Blake Hodgson] did, and he's never been happier. It only took him a couple of weeks of quality time at one of the local makerspaces.
[Blake] was showing off Lawn da Vinci at this year's Kansas City Maker Faire. He had his own booth around the corner from Hammerspace, the shop where it all came together. [Blake] started with a standard push mower from a garage sale and designed a frame around it using OnShape. The frame is made from angle iron, so it's strong enough that he can ride on the thing. To each his own, we say. The wheels and motors came from a mobility scooter and match the beefiness of the frame. These are powered by two 12v car batteries wired in series. He drives it around his yard with an R/C airplane controller.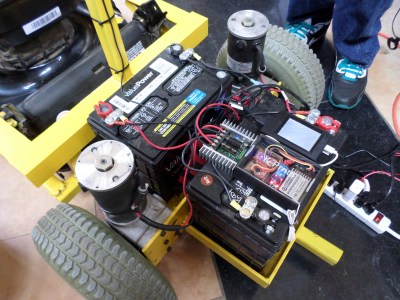 Lawn da Vinci's brainpower comes from two Arduino Pro Minis and a Raspberry Pi. One Arduino controls the motors and the R/C signal from the remote. The other runs some extra kill switches that keep the Lawn da Vinci out of trouble.
So what's the Raspi for? Right now, it's for streaming video from the webcam attached to a mast on the frame back to his phone. [Blake] says he has had some latency issues with the webcam, so there could be a pair of drone racing goggles in his future. He also plans to add a GPS logger and to automate part of the mowing.
Now, about those kill switches: there are several of them. You probably can't have too many of these on a remote control spinning suburban death machine. Lawn da Vinci will stop grazing if it goes out of range of the remote or if the remote is turned off. [Blake] also wired up a dedicated kill switch to a button on the remote and a fourth one on a separate key fob.
The Lawn da Vinci is one of many example projects that [Blake] uses to showcase the possibilities of KC Proto, a company he started to help local businesses realize their ideas by offering design solutions and assistance with prototyping. Between mowings, [Blake] puts the batteries on a trickle charger. If you make your own robot lawn mower, you might consider building a gas and solar hybrid.