Even in this age of wearable technology, the actual fabric in our t-shirts and clothes may still be the most high-tech product we wear. From the genetically engineered cotton seed, though an autonomous machine world, this product is manufactured in one of the world's largest automation bubbles. Self-driving cotton pickers harvest and preprocess the cotton. More machines blend the raw material, comb it, twist and spin it into yarn, and finally, a weaving machine outputs sheets of spotless cotton jersey. The degree of automation could not be higher. Except for the laboratories, where seeds, cotton fibers, and yarns are tested to meet tight specifications, woven fabrics originate from a mostly human-free zone that is governed by technology and economics.
The Automation Gap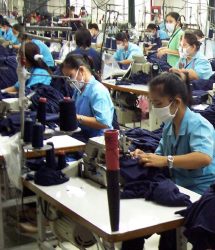 After the fabric is woven, however, the automation ends abruptly — clothes are still a mostly handmade product. Precisely where all the pieces finally come together, a big automation gap has grown. To make a batch of a piece of garment, a shirt for example, hundreds of layers of fabric are stacked with a printed paper template of the cutting pattern on top. A technician then uses a special tool (the electric straight-knife cutting machine) to trace the contours of the template, simultaneously cutting hundreds of parts. A fleet of sewing machines run by diligent sewers then buzzes those pieces together to make shirts, tees or pants. Assembling garment is a laborious process, and RMG-factories (Ready-Made-Garment) are naturally found where labor is cheap.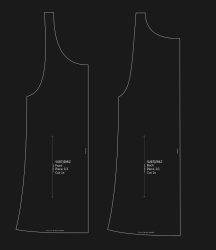 If you look at how garments are composed, that makes sense: can you imagine another way how to reliably align all the soft fabric pieces and put a seam in place? Garments are designed for manual sewing. Since the Industrial Revolution, fabrics have become lighter, sewing techniques have progressed, and wherever the grown manufacturing chain allows it, short stages of automation have been spliced in. Functional fabrics, ultrasonic sewing techniques, CNC template cutting, automated stitching and various printing techniques have been added, but the overall process itself remains unchanged.
Filling the gap
Unfortunately, no other material is as cheap, abundant and comfortable as the soft and flexible cotton jersey from the automation bubble, because it's not by itself amenable to further automation. It can't be practically glued or welded, it's kind of a stubborn material to feed into an automated process, and it makes redesigning garments for automated manufacturing a huge challenge. However, this redesign process is happening now, and it's following patterns that we have seen before in other areas of manufacturing. From the development of desktop machines that virtually print garment on the fly to entirely new manufacturing methods that leave the paved way of cheap, subsided cotton, everything seems possible.
OpenKnit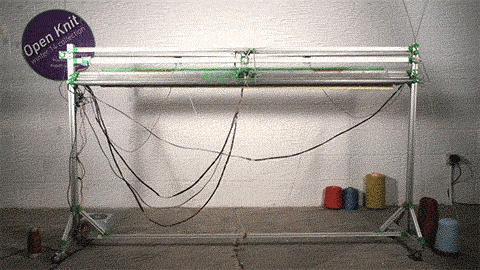 Computerized flat knitting machines use a large array of hundreds of mechanically or electronically latched knitting needles to turn yarn into arbitrary, wearable shapes. Gerard Rubio started OpenKnit in 2014 as an open source project to develop such a machine, and the project matured greatly since then. Gerard recently founded Kniterate and announced a Kickstarter campaign to fund a desktop machine that prints ready-to-use garment. The knitting technique works best with thick yarns, typically for pullovers, caps and winter socks. Knitting is still unsuitable for producing light fabrics, but if you want to print your own pullover right now, there's actually no need to wait.
Fabrican
If you like it tight, you at least have the mold already. Fabrican uses your body as mold for a perfectly fitting, seamless piece of garment. Fashion design student Manel Torres invented Fabrican in 1995 by adapting the resin-like composition of Silly String, geared up an R&D facility and perfected his idea. Fabrican is basically a spray can that contains a polymer solution with a highly volatile solvent. After being applied, the solvent dissolves quickly, leaving a soft layer of non-woven fabric polymer behind.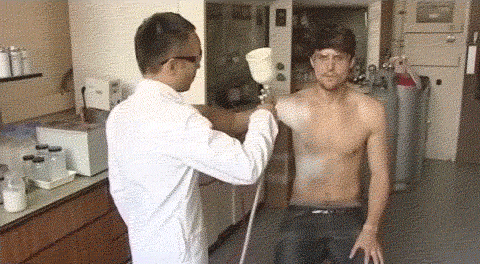 Although the formulation appears to have reached a point where very fine and light, washable garments are possible, Fabrican isn't exactly a commercial success. The most likely reason for this may be that people don't want to spray chemicals on their bodies to make their own garments, although most video demonstrations also suggest that the spray-on fabric is not very flexible, rips easily and is therefore not too practical. Possibly, the technique could be improved by using fibrous filling materials in conjunction with flexible polymers. Given a non-human mold and more practical materials, the method makes a great starting point for fully automated garment production.
Electroloom
Electroloom uses an electrospinning process that applies non-woven fabric to flat or three-dimensional, metal molds for automated production of seamless garments. Unfortunately, a Kickstarter campaign and a research grant from the National Science Foundation (NSF) was not enough to finance through the development of an electrospinning process that can be used for garment production. The founders recently announced the end of Electroloom. Nevertheless, the technology that has been demonstrated by Electroloom over the last year has been promising.
The process requires a high voltage potential to be applied between a conductive emitter nozzle and a metal mold, such as the metal tank top shown above. A polymer solution is then slowly dispensed from the nozzle, where electrostatic repulsion forces fine fibers to emanate from the liquid before being accelerated towards the surface of the mold. The fibers stretch, thin down to a few hundred nanometers, and dry during their flight towards the mold, where they build up to a fine, fabric-like material. The mold is moved or rotated during the process to ensure an even material build up. Once enough material has been laid down, the process is stopped and a piece of garment can be peeled off the mold.
Electrospinning was originally invented as a textile manufacturing process, but never found wide adoption. Currently, common applications of electrospinning are filtration materials, wound dressing materials, tissue engineering and other use cases that require small amounts of very fine, absorbent tissue. Even though Electroloom's announced garment printer will never be released, their vision of a fully automated production process for practical, light garments remains.
Automate, Now!
We're in the midst of the "Automation" phase of the 2016 Hackaday Prize, a competition to drive social change through creating. Garment manufacturing is one of the industries that provide both an immense demand for automation as well as the opportunity to disrupt some of the quirky, grown processes chains. If you have an idea on how to manufacture garments better than it's currently done, hop over to hackaday.io, get feedback from the community and make it happen while winning some awesome prizes! Any other ideas? Let us know in the comments below!
Thanks to [regan67] for the photo of the sewing machine in the title graphic!