Of all the things evolution has stumbled across, the eye is one of the most remarkable. Acting as sort of a 'biological electromagnetic transducer', the eye converts incoming photons into electrical and chemical spikes, known as action potentials. These spikes then drive the brain of the host life form. Billions of years of natural selection has produced several types of eyes, with some better than others. It would be an honest mistake to think that the human eye is at the top of the food chain, as this is not the case. Mammals underwent a long stint scurrying around in dark caves and crevasses, causing our eyes to take a back seat to other more important functions, such as the development of a cortex.
There are color sensitive cones in all eyes. Mammals have three types of cones, which are…wait for it…Red, Blue and Green. Our red and green cones are relatively recent on the evolutionary timescale – appearing about 30 million years ago.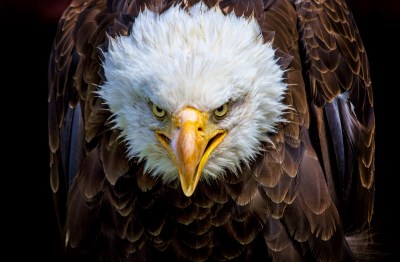 The way these cones are distributed around our eyes is not perfect. They're scattered around in lumpy, uneven patterns, and thus give us an uneven light sampling of our world. Evolution simply has not had enough time to optimize our eyes.
There is another animal on this planet, however, that never went through "the dark ages" as mammals did. This animal has been soaring high above its predators for over 60 million years, allowing its eyes to reach the pinnacle of the natural selection process. A bald eagle can spot a mouse from over a mile away. Birds eyes have 5 types of light sensitive cones – red, blue and green like our own. But add in violet and a type of cone that can detect no light, or black. But it is the way these cones are distributed around the bird's eye that is most fascinating, and the subject of today's article.
A Hidden Order
[Joe Corbo] of Washington University in St. Louis was studying the eye of a common chicken, when he came across a most interesting find. The way the light cones were distributed was unlike anything that he'd seen before. These light cones are random in human eyes and laid out in neat columns and rows in fish eyes. But there was some type of unique structure going on with the light cone distribution in the chicken's eye.  The five types of cones themselves were laid out in a random pattern, but the same types of cones were never found close to one another. Imagine taking a handful of marbles composed of five different colors and tossing them on the floor, and finding an equidistant spacing between each of the colors.
There was clearly some type of hidden order within the seemingly random distribution of the light cones. [Corbo] wondered why they were not distributed in a grid or lattice type of structure, as that would seem to be the most efficient way to sample light from the outside world. Why did evolution opt for this pattern? It quickly became clear to [Corbo] and his colleagues that they were missing something… there was some type of variable at work that they did not understand.
Packing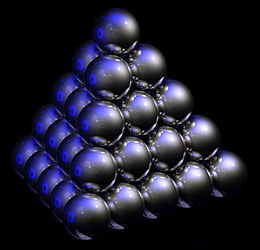 After some research, [Corbo] sought the help of [Salvatore Torquato], a  professor at Princeton and a recognized expert in packing — the study of fitting the largest of amount of objects in a set of constraints. [Corbo] wanted to know if the light cones in the chicken's retina were optimally 'packed'. A few images and algorithms later, it was found that they were indeed packed with optimum efficiency.
What was most surprising to [Torquato], however, was that packing was a physical manifestation, which has been seen in everything from crystals to large scale structures in the universe. And here it was again staring back at him… through the eye of a common chicken.
Hyperuniformity
There is a particular pattern that forms when objects are optimally packed. It was this pattern that [Corbo] recognized in the chicken's eye. It's been dubbed "hyperuniformity". What makes the chicken's eye unique is that the light cones are all different sizes. Consider the following demonstration:
Lay out a bunch of pennies on a table, and then pack them to their most dense state. You will get a nice regular repeating triangular lattice type of pattern. If you toss in a few other sized coins, this pattern gets disrupted. Now imagine having five different sized coins optimally packed.  There is no longer any type of pattern… geometry forces this to be true. And this is why the five light cones are distributed without any type of pattern in the chicken's eye. But, and this is a big but, evolution will demand an even distribution of the different types of light cones, and this gives rise to the hyperuniformity in the chicken's retina.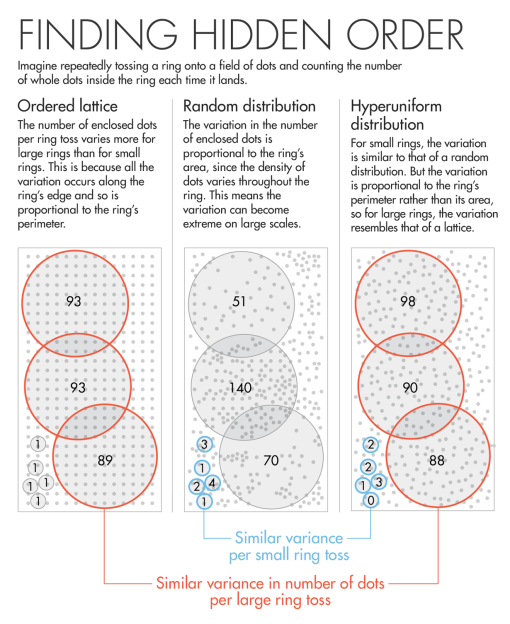 Let us tickle your brain a little more by looking at hyperunifority from a semi-mathematical perspective. Imagine a lattice of pegs and some rings. We toss the rings onto the lattice and count the number of pegs within the ring. This number will vary slightly as the number of pegs along the edge of the ring will be different for each toss. We can observe that as the ring grows in size, this variance increases. So that for small rings, the number of pegs within the ring is always the same. But for larger rings, the number of pegs covered becomes slightly different. We find that the number of pegs covered is proportional to the ring's perimeter for both large and small rings. See the image to the left.
Now imagine that our pegs are laid out in a completely random pattern. In this case, we will find variance in the number of pegs contained within both small and large rings. The variance will be much greater than the lattice pattern, especially with the large rings. We find that the number of pegs covered is proportional to the ring's area for both large and small rings.
Something strange happens if we have a hyperuniform pattern. Let's make the pegs random, but equidistant from each other… like the light cones in a bird's eye. We find that the number of pegs within the small rings will vary in a similar way that they do with the random peg layout — by area. But not so for the large rings. With those, we find that the variation is similar to the lattice layout — by perimeter. This suggests that even though the pattern is random, the large scale density is the same as the non-random lattice layout.
There is much more to be said on hyperuniformity and Quanta Magazine has a great article that delves a bit deeper. Nature has a knack for pulling off some amazing tricks and they're often found in very common places.