[MattB] decided to go the DIY route for some 7 segment displays that were several inches tall, but he had some particular requirements. He wanted precisely shaped elements that were as cleanly and evenly lit as possible, with no obvious points of illumination from LEDs and no visibly uneven edge lighting. To do this, he used the tools and materials he had on hand and carefully handcrafted each segment. The result is awfully close to his ideal!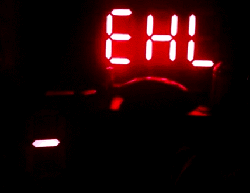 Every digit is made up of identical but separate handcrafted segments. Each is a piece of acrylic cut into an elongated hexagon somewhat larger than the lit area. The acrylic is sanded to give a frosted finish, the lit area is masked off, and then the piece is painted with white paint to encourage internal reflection before receiving a final coat in black. Drill two holes for LEDs, remove the masking to expose the lit area, and all that's left is to mount it up!
One problem [MattB] ran into was with the contact cement he used for mounting caused the (cheap) spray paint to bubble up on the back of many of the segments, ruining the appearance and requiring a do-over of the affected pieces. A gloss black paint combined with a sparse application of the contact cement seems to have done the trick. What is the final destination of these beautiful modules? His Skee Ball backbox looks great now that these are in place!
There are many different DIY large 7-segment display projects, and rarely do we see the same method twice. We've seen a transparent display made from stacked edge-lit acrylic panels, displays that use LEDs potted into cast epoxy as the segments, and even end-lit glue sticks used as display segments.