There it was, after twenty minutes of turning the place over, looking through assorted storage boxes. A Thinwire Ethernet network. About the smallest possible Thinwire Ethernet network as it happens, a crimped BNC lead about 100mm long and capped at each end by a T-piece and a 50 ohm terminator. I'd been looking for a BNC T-piece on which to hook up another terminator to a piece of test equipment, and I'd found two of them.
As I hooked up the test I wanted to run I found myself considering the absurdity of the situation. I last worked somewhere with a Thinwire network in the mid 1990s, and fortunately I am likely to never see another one in my life. If you've never encountered Thinwire, be thankful. A single piece of co-ax connecting all computers on the network, on which the tiniest fault causes all to fail.
So why had I held on to all the parts to make one, albeit the smallest possible variant? Some kind of memento, to remind me of the Good Old Days of running round an office with a cable tester perhaps? Or was I just returning to my past as a hoarder, like a Tolkienic dragon perched atop a mountain of electronic junk, and not the good kind of junk?
My Guilty Secret
What follows will probably be a familiar tale to many readers, one of a huge collection of boxes  bursting with Stuff That Might Be Useful Someday, or even Stuff That's Just Too Good To Throw Away. It's possible that there will be readers for whom this is not a problem, but I suspect I will not be alone in wrestling with it from time to time, so it's worth examination. Why do we do it, and what strategies can be taken to mitigate it?
A few decades ago, ordering electronic components was a fairly slow and expensive process. There were a limited number of mail-order companies with large paper catalogues, and your order had to go through two postal delays as it made its way to the supplier and then as its parts made their way to you. This is written from a small country, I can only imagine the extra delays when an order had to traverse a continent.
So back then there was something of a culture of hoarding electronic junk. Particularly if you were an impecunious teen. There was no online next-day-delivery, and even if there had been you probably wouldn't have been able to afford it. People hung on to pieces of dead electronics as sources of parts and to swap for other parts. They probably also snagged more than a few pieces of functional kit along the way, after all if it works it's Too Good To Throw Away, isn't it?
The Path To Junk Salvation
If your course followed mine, you'll know where this is going. After a few years of electronic endeavours I had a hoard approaching mini-dragonesque proportions even if not the full Tolkien. I had the space for it, but even I could tell it had gotten a little out of hand. Something had to be done.
It's important to understand that to successfully deal with something of this nature the person involved will have to themselves recognize that it has become a problem. There will be no shortage of people taking it upon themselves to tell them, but this is not constructive as here the solution has to come from within. It is a daunting prospect to deal with a mountain of junk, and adding stress or pressure does not reduce that.
The way I chose to do it when I went through the process a few years ago was to adopt a rigorous strategy of evaluation for each item, with a set of criteria to apply to it and decide its fate. I looked at value, usefulness, and how long it had been since I had used or even seen the item, and used what I found to inform my decisions.
To The Bin With (Most Of) It!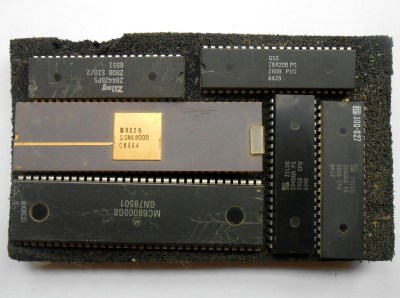 Value is pretty easy. Is it worth much? If it's a broken timebase panel from a 1970s Philips TV, then probably not. To the bin with it! More difficult was intangible value, did it remind me of something? A non-functional prototype amplifier board from my days in student radio for example. I made that, remembered the good times in a cramped studio. But was it going to feature in my life again? Let's face it, no. In the bin.
Surprisingly difficult were hoards of old components. Miscellaneous chips with 1970s and 1980s date codes stuffed into biscuit tins. I never expected to have qualms about those, and consulted Google on obscure part numbers just to see what it was I'd got. In the end I hung on to a few choice examples for old time's sale stuck on a piece of conductive foam. I'll never need a couple of 68000s or a brace of Z80s with support chips, but at least they take up very little space.
Usefulness was yet again straightforward. Tools, hang on to them. Motors, though, a different matter. You know how it is, you rip something apart and end up with some motors, which you put on one side because they're Too Good To Throw Away. I started putting any motors I found into a plastic tub, thinking I'd collect them together and some day they'd be useful. I wish I'd taken a picture now, because I could show you a tub overflowing with more motors than I could possibly use in a lifetime. I adopted another rule, to only hang on to a few of anything I had a huge number of, and put the rest on my, by now, burgeoning metal scrap pile.
It's Past Time to Part Ways
Finally, I applied a time limit to everything else that hadn't already made the cut. If I hadn't done anything with it in a decade and it wasn't intrinsically or sentimentally valuable, it went. I was amazed at the things I had no idea I still owned, stuff that had been carefully packed into boxes. For example, where on earth did I get a pile of Exabyte data backup tapes, and why was I holding on to a pile of useless and outdated VESA local bus graphics cards?
At the end of it all, after I had carted the piles of scrap, rubbish, and recycling to their respective destinations, I was left with a small selection of plastic tubs. Mains cables and extensions, data, signal, and network cables, electronic components, and tools. One set of shelves takes the lot, so I can put all the other non-electronic detritus of 21st century life on the rest of my shelves. Several years later I am now very wary of taking on any more junk, and if I don't have an immediate need for whatever it is then it doesn't come home with me. I buy components online as I need them, so I have little need to hold on to a stock. This is not to say I'm entirely cured, I find I now have more than one sewing machine and somehow a pile of ATX power supplies has become part of my life, but at least I can see the danger before it happens.
You'll have your own tales of battles with the tide of junk, I'm sure. It seems each of the Hackaday writers does. Tell us your horror stories in the comments, and tell us how you dealt with it. If you're wondering why I still have that Thinwire network, I have no idea. Perhaps it has a life of its own and wormed its way in unseen while I was evicting its brethren.