Whether it's trying to make contacts across the planet with a transmitter that would have a hard time lighting an LED, or blasting signals into space and bouncing them off the moon, amateur radio operators have always been on the forefront of communications technology. As mankind took to space in the 1950s and 1960s, hams went along for the ride with the first private satellites. But as successful as the OSCAR satellites were, they were still at best only beacons or repeaters in space. What was needed was the human touch – a real live operator making contacts with people on the ground, showing the capabilities of amateur radio while generating public interest in the space program. What was needed was a ham in space.
If at First You Don't Succeed…
The first attempt to get an amateur radio station into space with a licensed operator started in the waning days of the Apollo era. Owen Garriott (W5LFL) had a Ph.D. in electrical engineering at the time he was selected as one of the first six scientist-astronauts in 1965. He trained for and eventually flew on Skylab 3 in 1973. Late in the run-up to his mission, Garriott made a formal proposal to take along a ham rig so he could make contacts from orbit. NASA liked the idea, but because the idea came up so late in the mission cycle, there was no time to get the gear properly certified for spaceflight and the proposal was rejected.
Fortunately, Garriott would have another mission and another chance to become the first ham in space. Garriott was selected as a mission specialist for STS-9, the Spacelab-1 mission that flew on shuttle Columbia in 1983. Properly prepared this time, Garriott went aloft with a Motorola MX-300 handheld transceiver for the 2-meter band. The antenna was a bit of a compromise; no provision had been made on the Shuttle for an external antenna, so a cavity antenna was mounted to one of the windows with Velcro. The lucky ham to log the first contact (QSO) with an astronaut in orbit was Lance Collister (WA1JXN) of Montana.
The 300 or so QSOs Garriott logged during STS-9 – including VIPs such as US Senator Barry Goldwater (K7UGA) and King Hussein of Jordan (JY1) – were a public relations coup for NASA. Talking directly to someone in orbit had once been a privilege reserved for other astronauts and presidents. Now, any ham could make contact with an astronaut, and what's more, any ham could use his or her gear and expertise to let school children talk to astronauts.
Inspiring the Next Generation
Recognizing a good thing when they saw it, NASA formalized ham radio in space with SAREX, the Space Amateur Radio Experiment. In cooperation with the Radio Amateur Satellite Corporation (AMSAT) and the American Radio Relay League (ARRL), and with the express intention of getting young people excited about careers in science and engineering, SAREX flew on 25 Shuttle missions from 1983 to 1999.
As the SAREX program progressed, the amateur radio gear flown with missions got more and more complex – slow-scan television (SSTV), an automated packet radio system to enable around the clock QSOs even when the station could not be manned, and expansion from the original 2-meter band to the 70-centimeter UHF band. On the ground, build-out of a telebridge system increased the number of schools that could make contact with the Shuttle by providing a telephone link to fixed ground stations.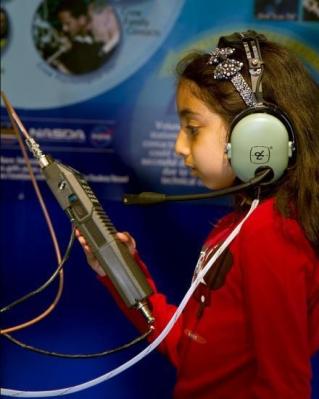 Short-duration Shuttle missions weren't the only flights with hams aboard. In 1988, the Russian Mir space station crew, Vladimir Titov, Musa Manarov, and Valery Polyakov earned their amateur licenses while in orbit. Pulling the enviable callsigns U1MIR, U2MIR, and U3MIR, they were later supplied with a Yaesu FT290 2-meter transceiver and an antenna, which was mounted to a handrail during a spacewalk. Hams aboard Mir continued the outreach to schools over the years as equipment was upgraded and crews changed.
By the time the first components of the ISS started going into orbit in 1998, a ham radio presence was already planned. ARISS, the Amateur Radio on the International Space Station program, brought together amateur radio groups from around the world to work on a comprehensive plan for ham radio stations on the ISS. An Ericsson handheld 2-meter rig was among the first payloads sent up to the Russian Zarya module in 1998, underscoring how integral ham radio had become to the spacefaring nations and their efforts to reach out to the public.
Radios for the ISS
On Earth, getting on the air as a ham is pretty easy – study a bit, pass the test, and buy your first rig. Gear selection amounts to what you can afford and what bands and modes you want to use.  But when your rig is headed 400 km upstairs to a pressurized tinfoil tube, the gear selection process has to be a bit more stringent. You might think this means the gear is completely custom-built by some government contractor, but as it turns out, pretty much all of the radios flying on the ISS right now are off-the-shelf gear that any ham can buy and operate. Like any other equipment headed to the ISS, ham radio gear has to be flight qualified to make sure it doesn't pose any hazard to the station or crew, but other than that all the rigs up there today would be familiar to any ham.
There are currently three stations flying aboard the ISS in three different modules. Along with the original Ericsson 2-meter handheld transceiver and packet modem in the Zarya module, there are Kenwood dual-band (VHF and UHF) radios in the Zvezda service module near the dining table, and another station in the Columbus module.
The Ericsson MP-A VHF rig in Columbus has a reputation for ruggedness and reliability, but after 16 years of operation aboard the ISS the radio recently started showing error codes and is currently off the air. ARISS operations were transferred to the station in the Russian modules until a replacement station can be sent up. ARISS already had plans to fly a Kenwood D710-GA and power supply, both of which are undergoing final approval and  certification by NASA before going topside.
Antennas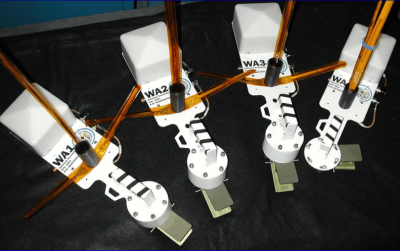 Any ham will tell you that half of the art of amateur radio lies in antenna design and construction. Earthbound hams have a lot of freedom to experiment with antennas and run feedlines through open windows, but things are a bit more constrained for their ISS counterparts.
While the antennas on the early Shuttle missions were somewhat ad hoc, the ISS was designed from the get-go to support multiple external antennas for ARISS operations. Early ISS crews installed four antenna systems around the service module. Designated WA1 to WA4, each antenna consists of Kapton-coated whips for either UHF/VHF or HF signals along with a spiral antenna for the L-band (1-2GHz) and S-band (2-4 GHz). There are no amateur stations aboard the ISS for those bands yet, so the antennas support the Russian Glisser space helmet camera system. Having four antennas around the space station provides redundancy in case of failure and helps keep at least one antenna correctly oriented despite ISS attitude adjustments.
The ham radio presence is space came full circle in 2008 when Owen Garriott's son Richard Garriott (W5KWQ) traveled as a paying passenger to the ISS with a Kenwood VC-H1 portable SSTV terminal and made hundreds of QSOs. Hams have been operating in space for over 30 years now, and there's been a continuous ham station operating from orbit for better than a decade and a half. Amateur radio has provided inspiration and education to thousands of kids around the world and has been a source of crew comfort and well-being by providing communication with family and friends. As long as there are manned spacecraft, it's a good guess that hams will be operating from them.