We know what it's like to wait for newly released electronic parts. Clicking refresh every day at your favorite online retailers, reading reviews published by the press who got preview units, and maybe even daring to order implausibly cheap devices from foreign lands. The ESP32 has many of us playing the waiting game, and we'll level with you — they're out of stock most places. But, if you look hard enough you can find one. At least, you could find them before we wrote this quick roundup of ESP32 hardware. If hearing about parts that are just out of reach is your sort of thing, then read on, you masochist!
Espressif
Espressif, the company that makes the ESP-32 chip and its support firmware, is also making modules and development boards to support them. Their module is the ESP-WROOM32, is not just the first module out there, but it also serves as the hardware design reference (zip file) for the chip. They also provide a datasheet (PDF) for the module. It's all there, so you could run their Gerbers and source the parts yourself if you wanted to.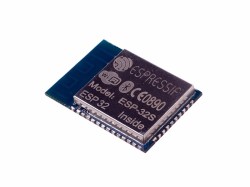 Alternatively, you could order them directly from Espressif, which we've never tried before, or you can try to get them many places online. Seeed was one of the first to stock them, but they're now out. Elecrow claims to have them in stock.
Espressif also makes a simple development board, which is what we received for testing. These are in stock at Adafruit (limit 1 per customer) and out of stock (again) at Olimex but we hope that'll change soon enough. With Espressif's own modules in short supply, it's a darn good thing that they've published a reference design and the clone producers have stepped up. Let's take a look at what the rest of the world is offering.
All-in-One Boards
Whether you think of these as being development kits or ESP32 breakouts, a complete minimal design that would be ready to start programming on should include a power regulator, a USB/serial converter, flash memory, the ESP32 chip and antenna.
From the look of things, Gravitech and Maker Asia took Espressif's demonstration board and module apart and reconstructed it on a single PCB. This means that they're able to pump out boards without being bottle-necked by the availability of modules. The Nano32 is currently being manufactured in Thailand, so we have no idea how long they'll take to get to you.
In the US, Sparkfun has entered the ring with their ESP32 Thing which has just come out of backorder. You should bookmark their very nice getting-started guide. Their twist on the basic board is to add in a LiPo battery charger. We haven't been able to put the chip through a power test yet, but the folks at Espressif suggested that they've added a few power-saving tricks to the firmware, so there's hope that a battery-driven WiFi solution isn't far away.
In Europe, Pycom has two boards that are apparently in stock now, and both shipping with their MicroPython firmware. Their WiPy 2.0 isn't all that much different from the other boards, but the LoPy is unique, pairing a LoRa radio with an ESP32, giving you three radio protocols for the price of one and a half, or something. If you need a LoRa bridge, or you need an ESP32 right now, check these folks out.
There are more than a few other development boards, or at least designs, out there. Click on over to ESP32.net and scroll down to the bottom of the page for a list. If any of you have one of these in your hands, or are the developer of one, let us know in the comments?
Modules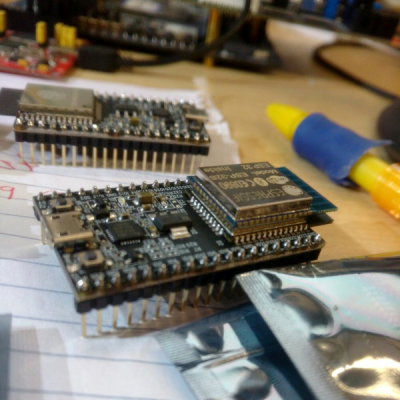 If you bought a bare ESP-XX module (ESP-01, ESP-07, ESP-12S…) chances are fairly decent that it was made by AI-Thinker. This is an entirely unscientific poll, but they account for 100% of the sample of bare modules that we've bought online.
Their earliest draft of an ESP32 module, called the ESP3212, has been scrapped and replaced with the ESP-32S, with a pinout that's identical to Espressif's WROOM32, according to [Angus Gratton] of Espressif. AI-Thinker started up production in early October, and there are modules available for around $8 on Taobao.com.
We're stoked to see a second source for modules, because all of the stock-outs and backorders are getting a little bit old. And we're doubly stoked that they're using the same footprint as Espressif. That's one more thing that we won't have to worry about.
Summary
At the moment who has what in stock is in flux, but if you look a little deeper, you can find an ESP32 development board or module. This is all bound to change over the next few weeks, so let us know what, where, and for how much you find yours. We look forward to these modules and development boards being as ubiquitous and easy to use as their predecessor.