Sometimes in the never-ending progression of technology, people take wrong turns. They pursue dead-ends they believe represent a bright future, often in spite of obvious indications to the contrary. IBM doggedly insisting Micro Channel Architecture was the future of PC hardware, for example, or Nokia's seeming inability to recognise that the mobile phone experience had changed for ever when the first iPhones and Android devices appeared.
Every once in a while, that collective delusion grips an entire industry. All the players in a particular market nail their colours to a technology, seemingly without heed to what seems with hindsight to have been a completely obvious threat from the alternative that sidelined them. It is a tale of personal experience that prompts this line of thought, for the industry that tempted me away from hardware to a career in electronic publishing in the early 1990s was CD-ROM multimedia.
I Saw The Future, And It Had A Commodore Logo
In my final year at university, I saw the future. On a friend's desk in his dorm room was his computer, and it wasn't anything like the machines the rest of us had. It was a Commodore CDTV, something like an Amiga 500 with a caddy-loading CD-ROM drive all dressed up to look like a piece of hi-fi. This was one of several products from large manufacturers trying to bring the new technology to market in a proprietary format, other notables included the Philips CDi and the Sony Data Discman.
My friend used his CDTV as an Amiga to do his coursework just as I used my A500, but the real magic came when he put in one of the few multimedia CD-ROMs he had. A world of instant graphical information retrieval sprang into life, and I fell for it hook, line, and sinker. One of the players in the industry at the time was headquartered in my city, so when after graduating I saw a junior job advert of theirs in the paper I jumped at it.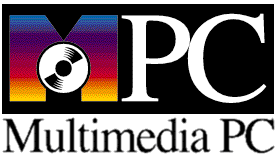 The premise was that CD-ROMs offered the chance to pack in huge amounts of information with high quality pictures, sound, and videos to satisfy the capabilities of the new computers of the day. For most users even the GUI was a very new experience, and their computer showing them multimedia content was mind-blowing. Sound cards and CD-ROM drives became the must-have upgrades for your Windows 3.x PC, and venture-capital-funded companies sprang up left, right, and centre offering all kinds of information and entertainment on CD-ROM.
If Only it Lived Up To The Promise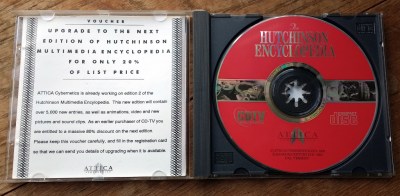 The problems with CD-ROM multimedia titles were many. 650 Mb sounded huge in the floppy era, but it soon became apparent that the limit to how much multimedia you could cram into it was smaller than it seemed. Thus content was highly compressed with proprietary codecs, and instead of rich full-screen video the result was blocky and the size of a matchbox. The end-user's PC would struggle with playback, as the codecs would join whatever other software their 486 was loaded with in competition for its meagre RAM and processor power. PC manufacturers had started filling machines with dubious pre-installed software, and when 4 Mb of RAM was the norm the bundled CD-ROM encyclopedias were often barely usable. If that wasn't bad enough, with so many would-be CD-ROM publishers in the market there was a dearth of good content. Huge numbers of poor quality titles were released, with buggy software and sometimes barely enough content to merit a CD-ROM in the first place. These were sold as premium products with high prices, and every customer who was caught by one of them was unlikely to spend again.
Our Nemesis, [Tim Berners-Lee]
[Tim Berners-Lee] and colleagues published the first web site towards the end of 1990. For several years you might only have encountered the web if you worked in a university, but by the middle of the decade it was within reach of almost any computer owner with a telephone line. Very shortly anyone who wanted to could open a search engine and access information on almost any topic at no extra cost, and the market for CD-ROM products evaporated. A host of small companies went bust, and large publishers everywhere shuttered the CD-ROM divisions they'd been throwing money at only a few years before. Those of us who had worked in the industry saw the discs we'd toiled over selling as dollar specials in supermarkets for a few years, and then by the early 2000s they were gone.
If there is a modern lesson that is as relevant as it should have been to 1990s CD producers, it is that one should never ever confuse the message with the medium. The product was not as it might have seemed the CD-ROMs themselves, but the information they contained. To fully understand this you may have to have seen the feverish excitement when at an early 1990s conference someone produced a gold CD-R, but an entire industry was seduced by those 120mm circles of polycarbonate. The amount of cash that was thrown away by investors paled into insignificance when compared to the dotcom bubble of a few years later, but that seduction still cost a hell of a lot of money. If you are wondering where the relevance is for the hardware engineer in this tale, consider this; [Steve Wozniak] writes in his autobiography of spending part of the early 1970s convinced that the future lay in electronic calculators. Aren't we lucky his interest eventually shifted to microcomputers instead.
CD-R header image: Ubern00b [CC-BY-SA-3.0], via Wikimedia Commons.