If you are a fan of sci-fi shows you'll be used to volumetric 3D displays as something that's going to be really awesome at some distant point in the future. It's been about forty years since a virtual 3D [Princess Leia] was projected to Star Wars fans from [R2D2]'s not-quite-a-belly-button, while in the real world it's still a technology with some way to go. We've seen LED cubes, spinning arrays, and lasers projected onto spinning disks, but nothing yet to give us that Wow! signaling that the technology has truly arrived.
We are starting to see these displays move from the high-end research lab into the realm of hackers and makers though, and the project we have for you here is a fantastic example. [Balduin Dettling] has created a spinning LED display using multiple sticks of addressable LEDs mounted on a rotor, and driven by a Teensy 3.1. What makes this all the more remarkable is that he's a secondary school student at a Gymnasium school in Germany (think British grammar school or American prep school).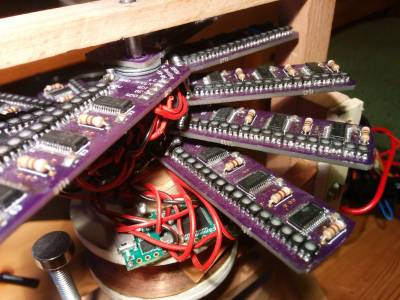 There are 480 LEDs in his display, and he addresses them through TLC5927 shift registers. Synchronisation is provided by a Hall-effect sensor and magnet to detect the start of each rotation, and the Teensy adjusts its pixel rate based on that timing. He's provided extremely comprehensive documentation with code and construction details in the GitHub repository, including a whitepaper in English worth digging into. He also posted the two videos we've given you below the break.
What were you building in High School? Did it involve circuit design, mechanical fabrication, firmware, and documentation? This is an impressive set of skills for such a young hacker, and the type of education we like to see available to those interested in a career in engineering.
We've shown you one or two volumetric 3D displays before, and it would be nice to think that this one might encourage some more to be created. To pique your interest, here's one with a spinning helix, and another similar to the one here using LED sticks.