Saturday evening at the Hackaday SuperConference is reserved for the Hackaday Prize Party. Our engineering initiative each year, The Hackaday Prize, starts in the spring and ends in the fall. What happens in between is magic: thousands of engineers and engineering enthusiasts focus their skills on building something that matters. The top entries take home some pretty amazing prizes. At this year's prize ceremony (seen below) we announced the five top entries which took home $200,000 in addition to the $100,000 already awarded to 100 final projects.
Check out the presentation which includes appearances by several of our amazing judges, then join us after the break for a bit more about this year's Hackaday Prize.
The 2016 Hackaday Prize began in March and included five challenge rounds which lasted about five weeks each. The challenges invited everyone to enter a project in one or more of the following topics: Design Your Concept, Anything Goes, Citizen Science, Automation, and Assistive Technology. At the end of each round, twenty entries were selected to receive $1000 and move on to the final round.
Over 1000 Entries; Many Winners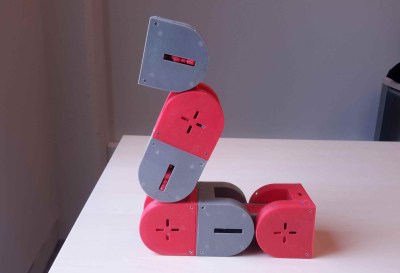 It has been amazing to watch all of the excitement around Hackaday Prize entries. All told, there were more than one thousand projects entered in the 2016 Hackaday Prize. All of these projects are worth exploring. For the prize ceremony we looked at the final ten entries which are summarized in the judges words.
The 2016 Hackaday Prize was awarded to Dtto, a modular robotics platform whose creator has been imagining every possible use case for the prototype he assembled. It's a remarkable build — simple at first glance, making it possible to fabricate it at any hackerspace, but the implementation goes far beyond your first impression. Make sure to check out the rest of the five top entries.
Where Do We Go From Here?
The Hackaday Prize has drawn to a close but the ideal of using your free time and talent to make the world a better place never ends. Choose something worthwhile and start a new build, or reach out to the team behind some of your favorite entries and offer to help move the project forward. Hackaday.io is a fantastic collaboration platform — you no longer need to be down the street from you engineering dream team to do meaningful work. As winter sets in for at least one hemisphere, the workbench calls your name and we can't see what you create.
How Is This Even Possible?
How is it even possible to host a multi-month engineering challenge that encourages Open Hardware and includes more than $300,000 in prizes? We have so many people to thank. First and foremost, the Hackaday Community is a big driver for this — your creativity, excitement, and help getting the word out are directly responsible for all the great entries and good things that happen. This extends to Hacker Chats, live events like Hackaday World Create day, and gracious hosts all over the world who helped make Hackaday meetups possible. Thank you!
Our panel of expert judges have been amazing. They donated their expertise and took time out of their busy schedules to be a big part of the entire scope of the Hackaday Prize. Many judged in the preliminary rounds in addition to their final-round duties. We saw them at live events around the world throughout the run of the Hackaday Prize, and many of them were at the SuperCon as speakers and to present at the awards ceremony.
We are also incredible grateful to the 2016 Hackaday Prize Sponsors who hold the same values at the Prize itself: celebrating engineering, Open Source/Open Hardware, and using our skills to Build Something that Matters. These sponsors are: Atmel, Digikey, Microchip, and Supplyframe.
To all who made this possible, thank you!