VR is an area that is seeing plenty of DIY experimentation, and [FultonX] has an interesting hack of sorts in that he's discovered something that meshes well with how we perceive motion and movement. It's an experimental movement system for VR he calls the Ninja Run, and it somewhat resembles skiing.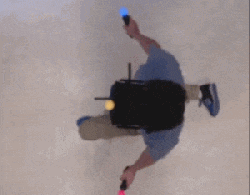 Even room-scale VR suffers from the fact that the player is more or less stuck in one place. Moving the player from one spot to another isn't currently a gracefully solved problem, and many existing methods are not immersive or have other drawbacks. One solution in use is a sort of teleportation, another "slides" the player to another area on command (like gliding across ice). [FultonX] found these existing solutions lacking, and prototyped the Ninja Run concept which he found was surprisingly intuitive and effective. Video demo embedded below.
[FultonX] found that using the "Ninja Run" position (head forward, arms swept back) to determine direction and speed of movement was both immersive and intuitive, and didn't feel unnatural at all; in fact it felt more like having a super power. He has shared a demo and created a Steam community project page in the hopes of seeing if the idea has legs.
VR is an area in which, even as a hobbyist, it is possible to genuinely innovate with not only software projects but also from the hardware side. For example, Vive's Lighthouse technology has been used to give positioning info to indoor robots.
[via RoadToVR]