Recharging your mobile phone or your electric vehicle in a few minutes sure sounds appealing. Supercapacitor technology has the potential to deliver that kind of performance that batteries currently can't, and while batteries are constantly improving, the pace of development is not very fast. Just remember your old Nokia mobile with Ni-Cad batteries and several days of usage before a recharge was needed. Today we have Lithium-Ion batteries and we have to charge our phones every single day. A better energy storage option is clearly needed, and supercapacitors seem to be the only technology that is close to replace the battery.
How Supercaps Work
Batteries store energy in electrochemical form, reactions inside the cell release electrical carriers that form a usable electric current. Supercapacitors work on a very different principle, storing energy in an electric field that is created when charges of opposite sign are held separated from each other.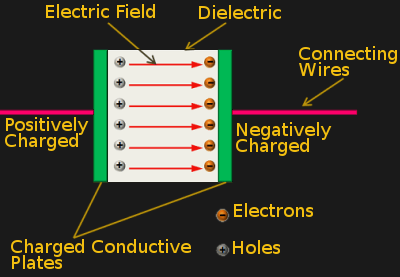 The operation of a normal capacitor is illustrated in the figure at the left. Two conductive plates are separated from each other by a dielectric medium. When voltage is applied to the plates, electrons accumulate on one plate, and are depleted from the other (forming positive holes). This separation of charges creates an electric field in the dielectric and this field is where energy is stored. Once the field reaches is maximum strength, the capacitor is fully charged. The electrons are attracted to the holes, so, if we give a path for them to flow, an electric current is established and the capacitor starts to discharge.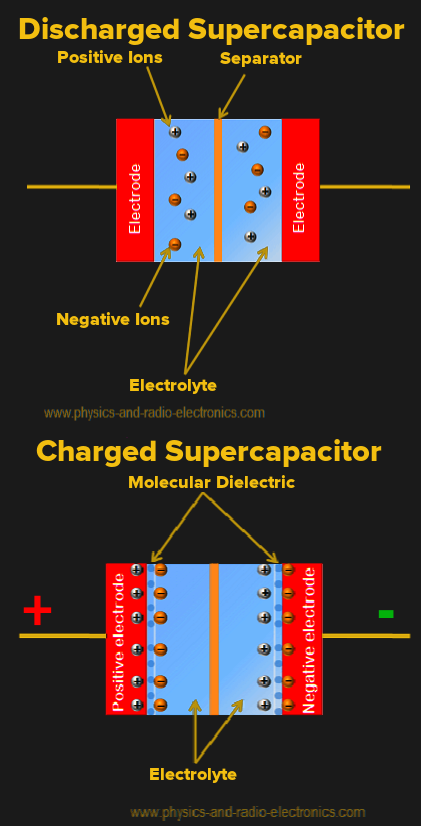 Supercapacitors have a different design, as shown in the right image. We also have two electrodes usually made of carbon, an electrolyte and a separator that allows the transfer of ions in the electrolyte. When voltage is applied to the electrodes, positive ions diffuse to the negative electrode and negative ones to the positive electrode. Electric charge accumulates at the surface of each electrode, forming a double layer (hence the name electric double-layer capacitor).  Each double layer works as the simple capacitor we explained before, but we have one at each electrode. Therefore the supercapacitor is effectively two capacitors in series by design.
But why is capacitance so large in a supercapacitor compared to a normal one? The capacitance (which is proportional to the energy that can be stored) is directly proportional to the plate area and inversely proportional to the plate separation. In a normal capacitor, the plate separation is the thickness of the dielectric — on the order of tens of microns while in a supercap that distance is on the order on nanometers (one-thousandth of a micron). Also, the carbon technology used for the supercapacitor electrodes allows for much more surface area. Its spongy nature makes the effective area up to 100,000 times greater than the square area of the electrode itself.
Comparing Batteries and Supercapacitors
Right now batteries and supercaps are kind of complementary, with the strength of one being the weakness of the other. Let´s review the key parameters of supercapacitors and Li-Ion batteries:
Charge time: Supercaps excel in this, with a charging time from 1 to 10 seconds, compared to 10 to 60 minutes to reach a full charge on a battery.
Life: Typical batteries have 500-1000 charge-discharge cycles while supercapacitors can reach up to one million cycles. In vehicle service, batteries have a life expectancy of 5 to 10 years while supercaps can last for 10 to 15 years.
Specific energy: This is the total stored energy per unit mass, and is the principal weakness of the supercapacitor, with an average of 10 Wh/kg, compared to 100-200 for batteries. For reference, we have 3700 Wh/kg for petrol fuel (considering 30% efficiency of an internal combustion engine). Regarding energy per unit volume, supercapacitors are also far behind at 15 Wh/L, and 1200 Wh/L for batteries. That means that a supercapacitor powered Iphone 5 will be 2 inches thick.
Specific power: Since supercaps can charge very quickly, they can also discharge rapidly, therefore they can deliver a power of up to 10,000 W/kg. Li-Ion batteries are in the range of 2000-3000 W/kg.
Cost: Being a relatively new technology, supercapacitors are still expensive, with a cost of around $20 per watt, while batteries are much cheaper in the range $0.5-$1 per watt.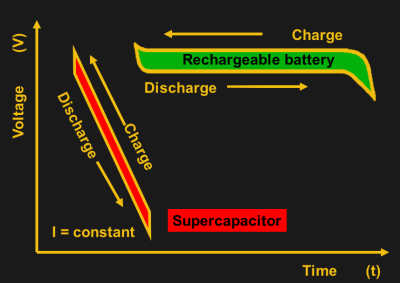 There is an additional disadvantage to supercapacitors compared to batteries: their voltage diminishes approximately linearly with stored charge, while batteries keep an approximately constant voltage until they are almost depleted. That means that additional circuitry is necessary to maintain voltage at a usable level when using supercaps, consuming some energy in the process. The typical voltage of supercapacitors is 2.5V-2.7V and, as with batteries, you can connect them in series for higher voltage. However, there are small variations in capacitance and ESR (equivalent series resistance) among individual supercapacitors, which causes uneven voltage distribution. Overvolting a supercapacitor quickly leads to failure, therefore balancing circuits are necessary to ensure that the voltage on each supercap is approximately the same.
Safety Issues
Lithium-Ion technology has had its safety issues that we all heard about, the recent incident with the Samsung Galaxy Note 7, and Boeing´s 787 Dreamliners grounded in 2013 after a battery caught fire are just two examples. Of course, given the millions of batteries out there, the actual rate of failure is incredibly low, so it is not an unsafe technology. Regarding supercapacitors, they have a much lower internal resistance than that of batteries, so in the event of a short, they do not heat as much. Sure, the technology is still in development, new materials and methods that can bring higher capacities may also increase risks, but as of today, we can say that supercapacitors are safer than Li-Ions.
When Can We Have a Supercap iPhone?
Supercapacitors already have several niche applications, with an estimated $400 million world market. Memory backup and protection was one of the first applications, as well as for powering electronic toys. They are also used in solar arrays and for micro energy harvesting systems. At the high end of the energy storage spectrum, supercaps are used in hybrid electric vehicles for regenerative braking and to provide starting power. The power grid can also benefit from them, using banks of supercaps as a buffer for power surges, the transmission lines can operate closer to a 100% capacity, increasing efficiency.
All of this is good news, and supercaps have begun to take on some roles traditionally assigned to batteries. But supercaps still lag behind batteries in terms of storage. New advances in technology, such as the use of graphene and other compounds, may increase capacity in the near future, making the supercapacitor a real option to replace the battery. For now, manufacturing remains expensive, and physical size means that even if you are willing to splurge on price you still can't get a reasonable replacement for today's Li-ion toting mobiles. Perhaps the next trend in smartphones will be a return to the brick design, making room for supercaps to utilize their rapid charging and long service life. Until then we wait for manufacturing advancements that can fit larger plates into a smaller space.