To a casual observer it might seem as though our community is in the news rather a lot at the moment. It's all about hacks on our TV screens in the soap opera of Washington politics, who hacked this, whether those people over there helped that lot hack the other lot, or even whether that person's emails could have been hacked on that server. Keeping up with it as an outsider can become a full-time job.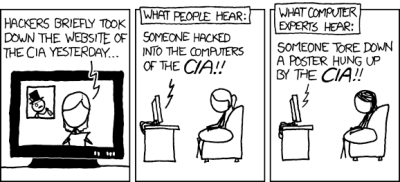 Of course, as we all know even if the mainstream journalists (or should I refer to them colloquially as "hacks"?) don't, it's not us they're talking about. Their hackers are computer criminals, while we are people with some of the hardware and software skills to bend technology to our will, even beyond what its designers might have intended. And that divergence between the way we use the word in a sense of reappropriation and they use it in disapprobation sometimes puts us in an odd position. Explaining to a sober-suited businessman as the director of a hackspace, that no, we're not *those*hackers can sometimes  feel like skating on thin ice.
Boot up or shut up!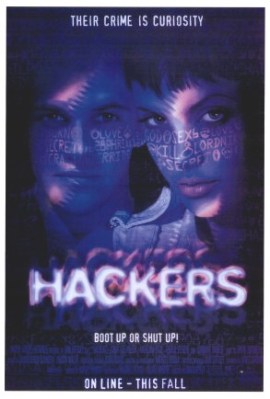 We're all familiar with the sensationalized media portrayal of the hacker. Film characters who can develop and debug the most complex of code which breaks into Fort Knox or the Kremlin, all in about three seconds of aimless banging at a keyboard with a static mock-up of a command prompt in front of them. It's become the subject of considerable mirth within our community, as with innumerable lists of awful hacking scenes in movies, photo galleries like this wonderful series of pages featuring stock photo "hackers", or even the famous, and no doubt by now horribly burned, "Beautiful woman repair soldering a printed circuit board". The trouble is though, behind the laughs at the awful tech portrayal is the sad truth, what is obviously fake to us looks real to Joe Public, and those are the criteria upon which we are judged. The credibility-stretching tech baddie on the screen is a hacker, they are told, so we must be baddies too.
Over Christmas where this is being written, the 2014 British film Pride was repeated on TV. In a memorable sequence the lead character explains the process of reappropriation of problematic language, as a tabloid newspaper insult against the gay community is turned against its originator by being adopted as the publicity slogan for a benefit gig. While the situation portrayed is very different, there is a valuable parallel to be drawn for any community in danger of losing control of their own narrative. In reclaiming the word "hacker" for our hackspaces, hackathons, and of course our popular and informative news websites, we are slowly educating the world that far from someone to be afraid of, a hacker is someone you might just welcome in your vicinity. Showing 3D printing or laser cutting in a hackspace to people from local businesses and organisations visibly opens their eyes on this front, having arrived looking wary they leave full of enthusiasm.
Something Done Without Constructive End
If we look at the word with several decades behind us, perhaps we can chart its fall into disreputable circles. Its early etymology is well-enough documented as a piece of the internal jargon at MIT's Tech Model Railroad Club (TMRC), and it appears in Peter Samson's 1959 TMRC dictionary to which he added italic notes in 2005.
HACK: 1) something done without constructive end; 2) a project under-taken on bad self-advice; 3) an entropy booster; 4) to produce, or attempt to produce, a hack3.
I saw this as a term for an unconventional or unorthodox application of technology, typically deprecated for engineering reasons. There was no specific suggestion of malicious intent (or of benevolence, either). Indeed, the era of this dictionary saw some "good hacks:" using a room-sized computer to play music, for instance; or, some would say, writing the dictionary itself.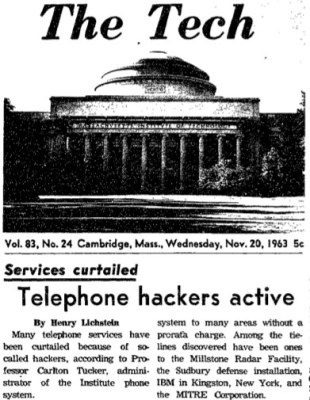 The word appears incidentally around that time in issues of The Tech, MIT's newspaper, but we have to wait for November 1963 to see it break into the mainstream with a story of a group of students disrupting MIT's phone system through wardialling with a PDP-1 (PDF link). Straight away we see the start of the association with computer crime, though there is an air of "Boys will be boys", in the official reaction any approval is absent. (If by any chance any of that MIT class of '63 whose nefarious activities are documented happens to be a Hackaday reader, we urge you to write your memoir of the escapades. We'd all like to read it so please get in touch!)
It's entirely possible that our historical view is built on sand. We feel like "hack" as a term has been corrupted in our modern times and needs to be taken back to it's original positive connotation. But there is an aspect of the 1959 TMRC use of "hack" having gained a negative connotation before ever leaving the confines of MIT. Perhaps only an etymologist or lexicographer could give us the answer, and even then it might have little relevance to our slow reappropriation of the word.
It's a perennial in some hackspace circles, a few members bringing up the idea of replacing "hack" with something else a little less controversial. Some spaces go for it, ours where this is being written hasn't. We hack, and we own it!