Old hardware you may have on hand cannot only inspire projects in their own right, but can facilitate the realization of any ideas you have been planning. Using a Nokia N900, [MakerMan] concocted a light-up sign with a live subscriber and view count of his videos.
[MakerMan] milled out the logo used on the sign with his DIY CNC machine — built from rotary bearings and recycled stepper motors off industrial Xerox printers. The meticulous application of a jigsaw, rotary tool, and grinder resulted in a sturdy frame for the sign while a few strips of RGB LEDs imbue it with an inspiring glow. All that was left was to mount the phone in place and tape it for good measure.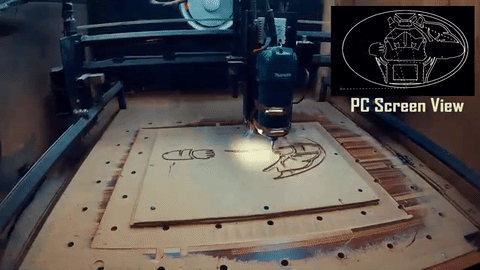 [MakerMan] mentions that near the end of the 4-5 day build the phone ran into some issues which he doesn't detail. He does note that he managed to underclock the phone to use less power, which may have played a part. Despite that, the Nokia lives up to its legacy of sturdy utility — even if it isn't for its intended purpose — and as a powerful reminder to keep on hacking and making!
In the past, we've featured a few different Nokia hacks — from turning one into an Arduino shield, to using their displays in projects, to detailing a serious SMS blocking exploit back in the day.