A University of Utah team have a working prototype of a new twist on fluid-filled lenses for correction of vision problems: automatic adjustment and refocus depending on what you're looking at. Technically, the glasses have a distance sensor embedded into the front of the frame and continually adjust the focus of the lenses. An 8 gram, 110 mAh battery powers the prototype for roughly 6 hours.
Eyeglasses that can adapt on the fly to different focal needs is important because many people with degraded vision suffer from more than one condition at the same time, which makes addressing their vision problems more complex than a single corrective lens. For example, many people who are nearsighted or farsighted (where near objects and far objects far objects and near objects are seen out of focus, respectively) also suffer from a general loss of the eye's ability to change focus, a condition that is age-related. As a result, people require multiple sets of eyeglasses for different conditions. Bifocal or trifocal or progressive lenses are really just multiple sets of lenses squashed into a smaller form factor, and greatly reduce the wearer's field of view which is itself a significant vision impairment. A full field of view could be restored if eyeglass lenses were able to adapt to different needs based on object distance, and that is what this project achieves.
A real innovation is not actually the distance-sensing part, but the adjustable lenses themselves. Lenses that can be modified dynamically using various methods (fluid pumps, etc) exist, but the team found none that:
Had a wide enough field of view to serve effectively as corrective eyeglass lenses
Were small and lightweight enough to use in eyeglasses
Had minimal optical aberrations (no diffraction from fresnel grooves, no air gaps, and so forth)
In the solution the team created, the lens assembly is fluid filled and the front of the lens is a clear flexible membrane, but the rear of the lens acts as an optically clear piston controlled by three piezoelectric actuators. The design is small, light, can produce plano-convex or plano-concave lenses, and can do so quickly (within 15 ms) and with low power consumption. The full whitepaper is available online and contains details about testing, design, and construction.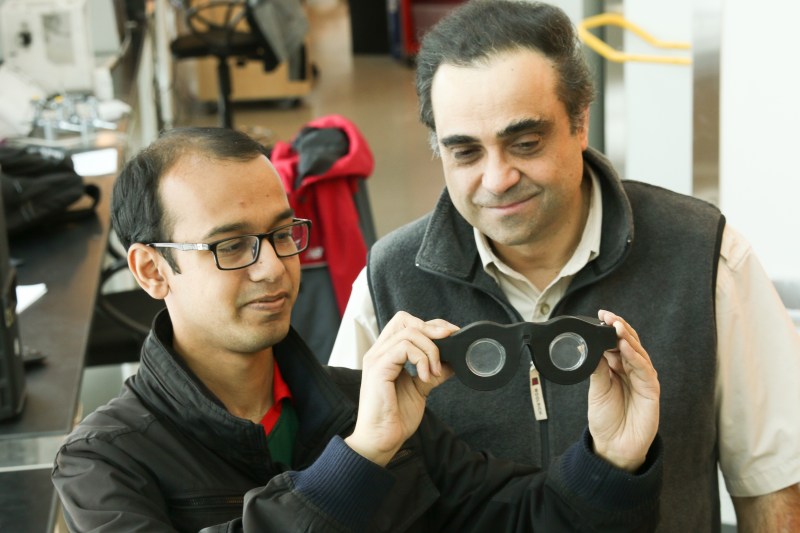 The prototype looks like it has a 3D printed frame, and we've seen some DIY work in the past with 3D printing experiments with fluid-filled lenses.
[via Engadget]