Star Trek has never let technology get in the way of a good story. Gene Roddenberry and the writers of the show thought up some amazing gadgets, from transporters to replicators to the warp core itself. Star Trek: The Next Generation brought us the iconic communicator badge. In 1987, a long-range radio device which could fit in a pin was science fiction. [Joe] is bringing these badges a bit closer to the real world with his entry in the 2017 Hackaday Sci-Fi Contest.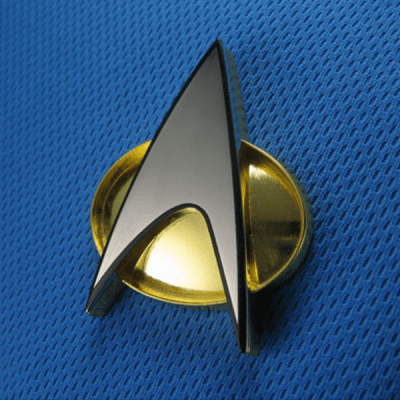 The first problem [Joe] dealt with was finding a radio which could run from watch batteries, and provide decently long-range operations. He chose the HopeRF RFM69HCW. Bringing fiction a bit closer to reality, this module has been used for orbital communications with low-cost satellites.
The Badge's processor is a Teensy LC. [Joe] is rolling his own Teensy, which means using bootloader chips from PJRC, as well as the main microcontroller. Kicking the main micro into operation is where [Joe] is stuck right now. Somewhere between the breadboard and the first spin of the surface mount PCB things went a bit sideways. The oscillators are running, but there are no USB communications. [Joe] is trying another board spin. He made a few improvements and already has new boards on the way. Switching to a toaster oven or skillet paste and solder setup would definitely help him get the new badges up and running.