You can store arbitrary data encoded in binary as a pattern of zeros and ones. What you do to get those zeros and ones is up to you. If you're in a particularly strange mood, you could even store them as strips of chocolate on Swedish pancakes.
Oddly enough, the possibility of the pancake as digital storage medium was what originally prompted [Michael Kohn] to undertake his similar 2013 project where he encoded his name on a paper wheel. Perhaps wisely, he prototyped on a simpler medium. With that perfected, four years later, it was time to step up to Modified Swedish Pancake Technology (MSPT).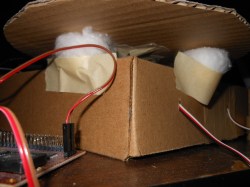 Highlights of the build include trying to optimize the brightness difference between chocolate and pancake. Reducing the amount of sugar in the recipe helps increase contrast by reducing caramelization, naturally. And cotton balls placed under the spinning cardboard platform can help stabilize the spinning breakfast / storage product.
Even so, [Michael] reports that it took multiple tries to get the sixteen bytes (bites?) of success in the video below. The data is stenciled onto the pancake and to our eye is quite distinct. Improvement seems to be more of an issue with better edge detection for the reflectance sensor.
What is it with digital electronics and pancakes? We honestly can't count the number of pancake-making robots we've featured over the years. Which suggest? Automating the production side of the storage medium! If you could print out an infinite tape of data pancakes, would you be able to make a Turing machine? If you decide to answer this question, let us know!