A robot assistant would make the lives of many much easier. Luckily, it's possible to make one of your own with few fancy materials. The [circuito.io] team demonstrates this by building a robot arm out of recyclables!
With the exception of the electronics — an Arduino, a trio of servo motors, and a joystick — the arm is made almost completely out of salvaged recyclables: scrap wood, a plastic bottle, bits of plastic string and a spring. Oh, and — demonstrating yet another use for those multi-talented tubers — a potato acts as a counterweight.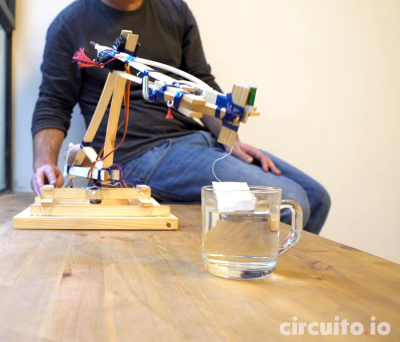 Instead of using screws or glue, these hackers used string made from a plastic bottle as a form of heat shrink wrap to bind the parts of the arm together. The gripper has only one pivoting claw for greater strength, and the spring snaps it open once released. Behold: your tea-bag dunking assistant.

Code for the project is available to download from their site. Given this straightforward tutorial, it's hard to find a reason NOT to embark on building your first robot arm — if you haven't already begun.
We at Hackaday love seeing projects that strive to reuse materials in inventive ways. That said, you needn't rely on a shiny new Arduino for this robot arm. If you have an aging palm pilot kicking around, that will also do the trick.