Delivery by drone is a reality and Amazon has been pursuing better and faster methods of autonomous package delivery. The US Patent and Trademark Office just issued a patent to Amazon for a shipping label that has an embedded parachute to ensure soft landings for future deliveries.
The patent itself indicates the construction consisting of a set of cords and a harness and the parachute itself is concealed within the label. The label will come in various shapes and sizes depending upon the size of the package and is designed to "enable the workflow process of shipping and handling to remain substantially unchanged". This means they are designed to look and be used just like a normal printed label.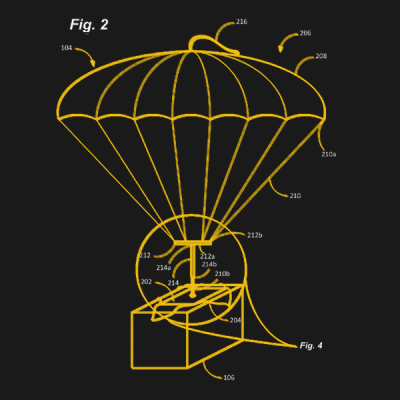 The objective is to paradrop your next delivery and by the looks of the patent images, they plan to use it for everything from eggs to the kitchen sink. Long packages will employ multiple labels with parachutes which will then be monitored using the camera and other sensors on the drone itself to monitor descent.
The system will reduce the time taken per delivery since the drone will no longer have to land and take off. Coupled with other UAV delivery patents, Amazon may be looking at more advanced delivery techniques. With paradrops, the drone need not be a multi rotor design and the next patent may very well be a mini trajectory correction system for packages.
If they come to fruition we wonder how easy it will be to get your hands on the labels. Materials and manufacture should both be quite cheap — this has already been proven by the model rocket crowd, and to make the system viable for Amazon it would have to be put into widespread use which brings to bear an economy of scale. We want to slap them on the side of beer cans as an upgrade to the catapult fridge.