Sony recently unveiled Toio, an educational robotics toy for young programmers. We all know Sony as an electronics giant, but they do dabble in robotics from time to time. The AIBO dog family is probably their most famous creation, though there is also QRIO, a bipedal humanoid, and on the stranger side, the Rolly.
Toio consists of two small cube robots which roll around the desktop. You can control them with handheld rings, or run programs on them. The robots are charged by a base station, which also has a cartridge slot. Sony is marketing this as an ecosystem that can be expanded by buying packs which consist of accessories and a software cartridge. It looks like the cartridge is yet another proprietary memory card format. Is Sony ever going to learn?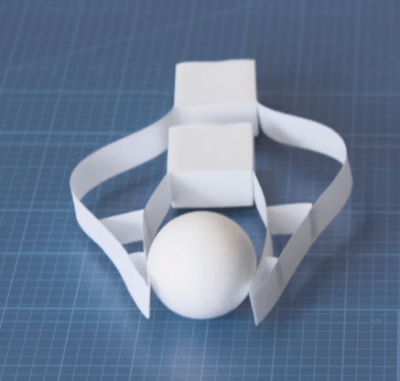 There isn't much hard information on Toio yet. We know it will be released in Japan on December 1st and will cost around ¥ 20,000, or about 200 USD. No word yet on a worldwide release.
The striking thing about this kit is how well the two robots know each other's position. Tape a paper pair of pants, and they "walk" like two feet. Attach a paper linkage between them, and they turn in perfect sync, like two gears. Add some paper strips, and the two robots work together to form a gripper.  We can only guess that Sony is using cameras on the bottom of each robot to determine position — possibly with the aid of an encoded work surface — similar to Anoto paper. Whatever technology it is, here's to hoping Sony puts out an SDK for researchers and hackers to get in on the fun with these little robots.