If you grow up around a small engineering business you are likely to gain something of an appreciation for power tools. You'll see them of all ages, sizes, manufacturers, and technologies. When thinking of the power tools constantly on hand in the workshop of a blacksmith like my dad for instance, I'm instantly seeing a drill and an angle grinder. The drill that most comes to mind is a Makita mains powered hand drill, and given that I remember the day he bought it to replace his clapped-out Wolf in 1976, it has given phenomenal service over four decades and continues to do so.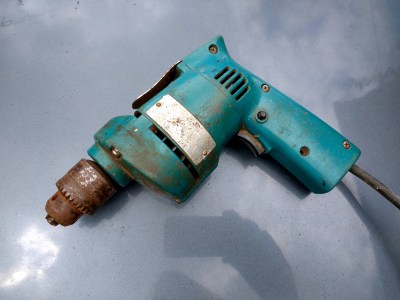 Of course, the Makita isn't the only drill in his possession. A variety of others of different sizes and speeds have come and gone over the years, and there is always one at hand for any given task. The other one I'd like to single out is I think the most recent acquisition, a Bosch cordless model he bought several years ago. It's similar in size and capabilities to the Makita save for its bulky battery pack, and it is a comparably decent quality tool.
So, we have two drills, both of similar size, and both of decent quality. One is from the mid 1970s, the other from the end of the last decade. One is a very useful tool able to drill holes all day, the other is little more than a paperweight. The vintage model from the days of flared trousers is a paperweight, you ask? No, the not-very-old Bosch, because its battery pack has lost its capacity. The inevitable degradation due to aged cell chemistry has left it unable to hold enough charge for more than maybe a minute's use, and what was once a tool you'd be glad to own is now an ornament.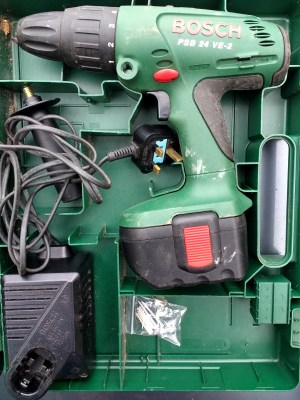 Naturally, this will not be unfamiliar to most Hackaday readers. We've all been offered a pile of dead cordless tools over the years, and as writers we've covered quite a few inventive hacks using them. They're a useful source of motors and sometimes even speed controllers, even if you don't want to use them as tools.
Comparing the Makita and the Bosch as exemplars of the two strands of power tool ownership, I have though to admit an unease over the rise of cordless tools, and a dislike of the marketing that surrounds them. In converting their customers to cordless tools, the manufacturers have found a way to get them to buy the same tool from them every five years or so when there is nothing wrong with their previous tool, simply because its battery pack has reached the end of its lifetime. Battery pack form factors change with each successive generation of tools, so the customer can not merely buy a new battery pack and move on. Great for the manufacturers, awful for the consumers.
Meanwhile of course, the marketing machine is in full swing pushing the convenience of cordless tools. Amazingly this often concentrates on those problematic batteries themselves, for example where this is being written the manufacturer of those lime-green power tools has a commercial promoting a range of tools that all have the same battery. The idea presumably being that after five years you won't simply have to replace your drill due to a dead battery, you'll have to replace all your tools!
Of course, a full-on rant against power tool built-in obsolescence is of little use though without some kind of solution. If we're to identify a problem then we should also provide some way out of it, at least a way that works for we hardware hackers and makers if not for the wider public.
The most obvious way to avoid cordless tool obsolescence is to not buy a cordless tool in the first place. Think carefully, how often do you use a power tool away from a mains socket? Really how often, not just hypothetically. The chances are it won't be that often, if at all, and buying an extension cord with your electric drill will be a lot cheaper than buying a replacement drill in five years time. And then there are the unexpected benefits, you forget just how lightweight a power tool is when it doesn't have a battery pack strapped to its handle. Buy a tool with a cord, and like my dad with his Makita, you might still be using it in four decades from now.
Repair
But let's say you have a cordless tool, and its battery is failing. Can you fix the battery? Of course you can. You are Hackaday readers, you'll all be aware that inside almost all cordless tool batteries you'll find a set of standard off-the-shelf cells wired together, C or D cells in the case of NiCd or NiMh packs, and maybe 18650 cells for LiIon. If you can defeat the efforts of your tool manufacturer to discourage battery pack dismantling, you can have them out on your bench, and replace them.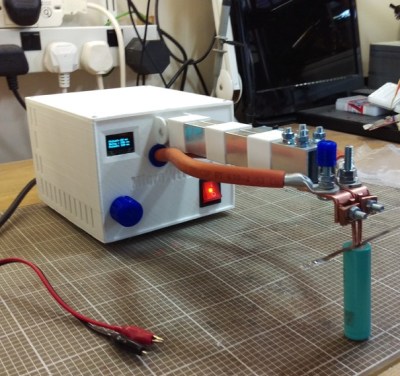 Of course, there is a snag to replacing cells in a pack. This isn't like the spring-loaded battery compartment in your radio, each cell will have spot-welded metal strip conductors linking it to its neighbour, and you'll have to come up with a way of replicating that. If you're lucky you'll find solderable batteries, otherwise you'll have to consider a battery welder. But if you can overcome that hurdle, you should at least be able to replace your cells without breaking the bank.
You will be unlikely to find a tool with a NiCd battery for sale new these days, but there are still huge numbers of older ones with dead packs to be found often at next-to-no outlay. It's not the safest of exploits, but it is possible to rejuvenate dead NiCd cells with the application of short bursts of high current. The theory goes that metal crystals grow in the cell and short it out, and the high current blows these metal crystals and brings the cell back to life. There are tales of this being performed with hefty bench power supplies, car batteries, and arc welders, though you may wish to research carefully before you give it a try.
Finally, who needs cells? If you have a suitably powerful low voltage supply, why not run your tool directly from it and forget about the battery pack? Of course, you lose the ability to run it as a cordless tool, but if it came to you at very little cost than that should present very little hardship. Try a modified PC power supply if it's a 12 V tool, or a lead-acid pack if it isn't.
So we've got past my rant about the iniquity of the built-in obsolescence of cordless power tools, and identified several ways that we as resourceful Hackaday readers can benefit from the cast-offs of others whose batteries have reached the end of their lives. It doesn't change my personal view that I'd always still buy a tool with a cord by choice, but at least there are ways forward for those stuck with failing cordless tools. Do you share my feelings on this topic?