You've spent months developing your product, your Kickstarter just finished successfully, and now you're ready to order all the parts. Unfortunately, your main component, an ATmega328P, is out of stock everywhere with a manufacturer lead time of 16 weeks. Now what?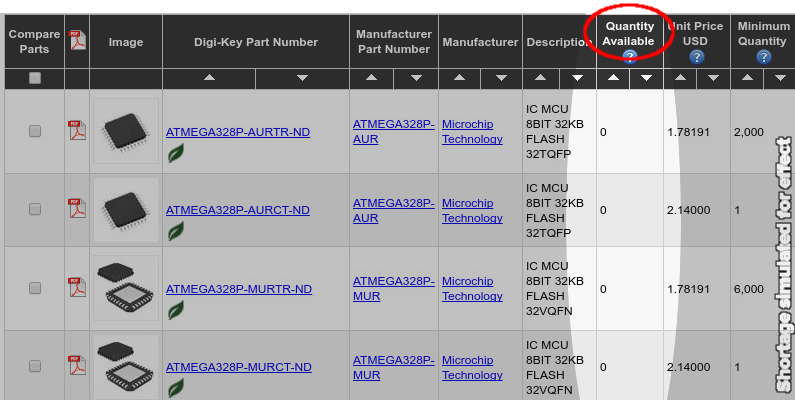 When manufacturing things in large volumes, acquiring enough stock at the right time can be tricky. There can be seasonal shortages with companies trying to get products manufactured and available for Christmas. There can be natural disasters like floods of hard drive factories, or politically-related availability problems like tantalum for capacitors, or maybe new markets open up that increase demand or a new product sucks up all the available supply. The result is all the same; you have a harder time getting what you need. Fortunately, there are some ways to avoid this problem, or at least mitigate it.
Check Lead Times During Development
Don't design a product with a part that is marked as "Not for new designs" or "Obsolete." This seems obvious. Look at availability when picking your part. If large distributors like Mouser and Digikey have lots of units in stock, there's a good chance that it's a popular part that will continue to be produced, but it's not in such high demand that they can't keep it stocked. This is the ideal situation.
Use Common Parts
The more generic the part, the more likely you'll be able to find suitable alternatives if your primary source fails. 0603 is a super common footprint size, and you can still get 0805 or 0402 parts to work in a pinch. Use common values as well. 1% resistors are just as cheap as 5%, but if you use 10k resistors, you'll be able to source literally a billion of them with no problems. Try 9.88k, though, and you get only a handful that are 10x the cost.
Lots of conventions have emerged with common parts that make it easy to drop in replacements. The 555 timer is available with different part numbers from TI, Maxim, Microchip, Intersil, the list goes on. They all have essentially the same specs, and definitely the same pinouts and packages. The less specific your design, the easier it is to find lots of suitable components with high availability.
List Critical Features of Each Part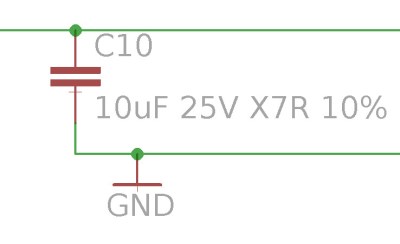 If you want to measure current, you'll probably use a current sense resistor. You specify a value for the resistor, a package size, and a power rating. Other than that, though, you may not care about any other specs.
Make sure in your schematic that you note the critical specs so that your alternate part search goes easier. If, for example, you need a .01Ohm 2512 resistor rated for at least 1W, then you can get creative in your sourcing, and maybe discover that there is a 3W chip that's cheaper. When you clearly define which specs matter and which don't, you can make other parts available for sourcing that may not have been otherwise.
Find Alternate Components
If nobody has the part you specify in stock, you need to be able to list other parts. The previous points touch on this, but it's worth spelling out in bold. Even during the design phase when you are picking out the parts to use, it's important to also collect a couple other part numbers that could also work. When I'm searching, I usually filter by the features I need, then sort by price. The first few entries are my primary and alternate components. It's usually that easy.
Find Alternate Sources
I have a hierarchy of suppliers, and almost always my first choice has the parts I need. It's a good practice to check your part against multiple sources, though, using tools like Parts.io. If none of your sources can reliably get a particular part you're interested in, or they all have long lead times, that's a sign that you should look for a different component.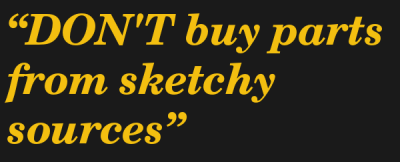 DON'T buy parts from sketchy sources. In a moment of desperation, you may be tempted to purchase a surprisingly cheap, seemingly identical part from eBay. These parts are fakes or factory rejects or have been damaged or exposed to humidity with rusted connections, or SOMETHING, but they will cause you more problems in the long run. It's not worth the risk, and you have no idea what may be wrong with the parts that will bite you further down the road.
Design Your Board for Flexibility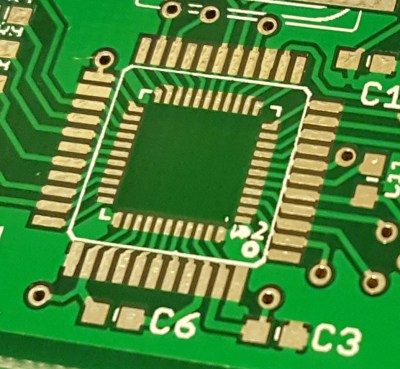 This happened to me, and I have the PCB to prove it. During the product development phase the Atmega328P was in short supply. I wanted to use the TQFP-32 package, but so did the rest of the developed world right then. Fortunately, some suppliers had a QFN package available, so I designed the board with the two packages nested. Since the pinout was identical, and the QFN fit nicely inside, it was easy to do, and it made the board compatible with either package. It may be necessary to design your board so that it can accommodate different components depending on which is available or which production method you use.
Don't design yourself into a corner with parts that are too niche or not readily available. Paying attention in the early design phases can save a huge hassle later.
Author's Note: Our parent company Supplyframe has some tools for choosing your parts and managing your supply chain and all that. It wasn't until I was putting the finishing touches on this article that I remembered this, and realized I might look like a corporate shill if I didn't at least mention it and disclose that Parts.io linked above is one of those tools.