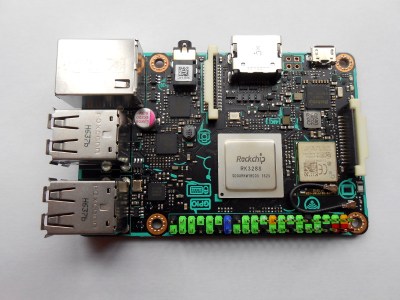 Back in February this year, we ordered a new single board computer, and reviewed it. The board in question was the Asus Tinker Board, a Raspberry Pi 3 competitor from the electronics giant in a very well-executed clone of the Raspberry Pi form factor.
Our review found its hardware to be one of the best of that crop of boards we had yet seen, but found serious fault with the poor state of its software support at the time. There was no website, the distro had to be downloaded from an obscure Asus download site, and there was no user community or support channel to speak of. We were then contacted by some of the folks from Asus who explained that the board had not yet been officially launched, and that the unit we'd secured had escaped the fold a little early.
Six Months As A Bench Computer
Thus it's been a nagging discomfort that this was a product to which we didn't really do adequate justice. We put an update in our review after the Asus people got back to us, but at the time there was still no online support so we couldn't update the substance of the review itself because we had nothing to go on.
So over six months later it's time to return to the Tinker Board and take a look at the state of its distro and at its support offering. Has it improved, and is it now a worthy contender to the Raspberry Pi crown in more than just its very capable hardware?
Our review board has seen plenty of use in that time. It has served as my bench computer and let me tell you, it's been a fantastic little board. It has provided a handy web terminal for technical look-up while working on hardware, and it has been very capable as an authoring and graphics manipulation platform for Hackaday stories requiring some bench time. If you are a regular reader, you will have read plenty of articles composed on it. It's had regular apt-get update/upgrade cycles and I've fitted the little stick-on heatsink that came with it because eventually I managed to get it warm enough that it crashed a few times, but otherwise it has remained as it came out of the box in February, with an early version of the distro.
Distro Confusion And Mild Lack Of Polish
So to bring it up to date for this re-appraisal I went to the Tinker Board website and downloaded the latest version, which was TinkerOS 1.8. It's important to stress that this is the official version: there are distributions with newer release numbers available from community members, but it is unclear whether or not they are not official TinkerOS releases. It's not ideal that community members release their own distros while continuing the Asus numbering scheme — in fact they should probably be forks — so for the purposes of this review I'm sticking with the official download from the web site because that will be the one retail customers find. It's worth pointing out that there is also an Android distribution, but since this is a comparison with the earlier review it's being ignored here.
Installation was a straightforward affair: transferring the disk image to an SD card as you'll be familiar with if you've owned a Raspberry Pi. They mention a shell script to do the job, but I did it by hand at the command line in the way I am used to. Booting the Tinker Board from the new distro I was straight away taken to an LXDE desktop over Debian Stretch.
I hit the first snag immediately. Despite runniing a capable monitor, the Tinker Board desktop had appeared in an SVGA-tastic 800 x 600 pixel resolution. Sadly there was no option to change this in the desktop display settings, but a quick Google search took me to the support forum and this thread, which allowed me to create an entry for my monitor. The second snag came when I tried to take a screenshot: despite being bound to the Print Screen key, it seems gnome-screenshot is missing from the distribution. The latest version of TinkerOS is a lot less rough around the edges than the early version I had in February, so it might seem as though I am nitpicking over minor stuff, but it's important to remember both the competition for this board and its likely market. These are both problems which do not exist in the equivalent Raspbian distro on a Raspberry Pi 3. For the non-technical users and younger people who may end up with this board it is likely that they will cause many more problems than they would to you or I, Hackaday readers. I sense that the creators of this distro could fix both with relative ease; that they haven't suggests there is still a lack of attention to detail.
Maybe The (British) Forum Can Win Your Hearts And Minds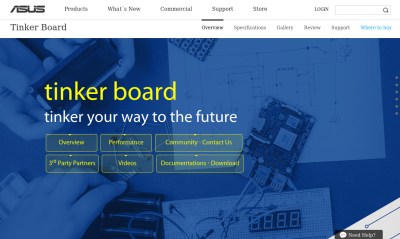 If the desktop still lacks a little polish, maybe the Tinker Board can rescue its reputation in the support area. Interestingly on the American Tinker Board site there is no link to a forum, while the UK site has a link to tinkerboarding.co.uk. This site has a wiki and a forum, and appears to have been set up in conjunction with the British retailer Currys/PC World, who are a major British seller of the board. Full marks to them for doing that; it's a rare case of British consumers not being the ones left in the cold for once, but it is perplexing that Asus haven't seen fit to provide the resource themselves. So if you're a Tinker Board owner from elsewhere in the world seeking support, come to the British forum.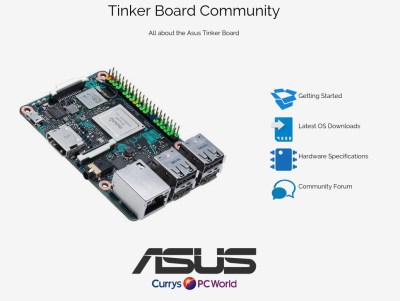 If there is a reason to buy a Tinker Board other than the good quality hardware, it lies in the tinkerboarding.co.uk site. It lacks the huge user base and years of archives you'll find on the Raspberry Pi forums, but in terms of its answers to any queries that have arisen during the writing of this article it has proved to contain quality answers from knowledgable users. This has the potential to grow into an extremely useful resource for Tinker Board users, and could prove to be the making of the platform.
So, having re-evaluated the Tinker Board software and support offering, how does it stand up? It's definitely a better answer than it was in February, but the final judgement has to be a little mixed. It is now straightforward to download a distro and get started, and the forum has proven to be a useful resource, but there is certainly an air of confusion around the delivery of the Tinker Board support package from Asus. The official distro lacks polish, there is a confusing situation with respect to newer versions, and the only support resource that's any good is provided not by Asus but by a retailer in only one country. Retailers pick up and put down product lines on a whim, there's no guarantee that the forum will be a permanent fixture.
No Longer A Board Only For Linux Savants
Would we advise you to buy one, now a few months have passed? It's still a piece of genuinely Raspberry-Pi-3-beating hardware, so our original assessment of a "yes" on the hardware front still stands. But how about on the software and support side? Back in February we suggested it was more of an experts-only board, and castigated Asus for a poor offering. Now they have considerably improved that offering, but we'd probably still advise a little caution if buying one for a complete non-technical newbie. Compared to a Pi, we'd still be fixing a lot of issues if we put a Tinker Board in front of our grandparents, for example. We would change our advice, though, for the middle ground. If you were considering this for someone who has already used a Raspberry Pi and has some Linux exposure, we think it would be within their grasp to figure it out. They would be able to find solutions on the forum and use apt-get to install software where the naive user probably wouldn't.
So you no longer need to be a Linux savant to use a Tinker Board, though it may still be a bit tricky for newbies. Which isn't perfect, but it represents significant progress for six months. We'll take it.