The hardware badge Mike Harrison designed for this year's Hackaday Superconference is begging to be hacked. Today, I wanted to help get you up and running quickly.
The Hacker Village atmosphere of Supercon is starting up a day early this year. On Friday, November 10th badge pick-up starts at noon and badge hacking continues throughout the afternoon, followed by a party at Supplyframe HQ that evening. Plan to get to town on Friday and join in the fun. Of course, you need to grab a Supercon ticket if you haven't already.
Check out the 2017 Superconference Badge project page for full documentation that Mike has put together during his development process.
Hardware Hacking
What to Note: prototyping area, 2×6 expansion header, ISP Header, TTL232 Header
Verbose Hardware Hacking Details: Project log
Those who want to spin a board, look to the expansion header. It breaks out the I2C lines, plus serial lines for RX1/TX1, and four additional GPIO lines. This header is through-hole 2×6 with 0.1″ space. These badge headers are unpopulated but can be soldered in the badge hacking area at the Superconference.
If you're hardcore you can use the prototyping area on the board to solder your components. Just above this header you'll find a row of pads providing I2C and power.
The badge will have two populated headers that may be of interest whether you're hacking hardware or software. Next to the battery holder, you can see 0.1″ SIL pins with the ISP Header (program using a PICkit instead of copy to SD card and using the bootloader) at the top and a TTL232 header below which is helpful for monitoring debugging info.
Mike has included some helper functions in the firmware to control the pins on the breakout header. Check out the hardware hacking section linked above for more on that.
Software Hacking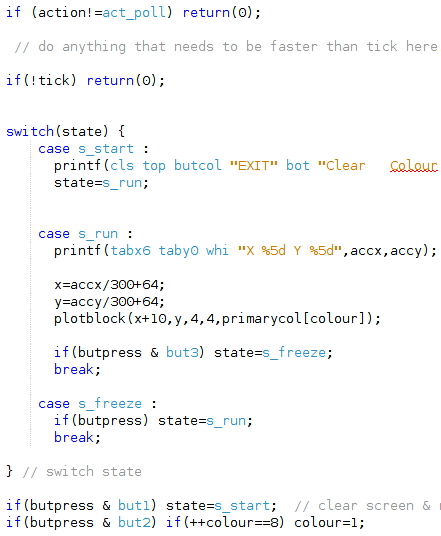 What to Note: You need to install the free MPLAB-X IDE and the XC32 compiler on your computer. Compiled HEX code can be copied to the badge micro SD card and flashed with the bootloader, or using a programmer (ie: PICkit3).
Verbose Software Hacking Details: Project log
Mike has written a fantastic software framework that makes getting started with the badge quite easy. His code tends all of the hardware and provides an apptemplate.c file that can be used as the start of each of your hacks. He even has a simple way for you to add each of your hacks to the badge menu for easy display.
The app template includes a state machine which will run some setup code (s_ start) when your program is launched, then a different block of code runs in a loop (s_run). There is a tick flag set every 20 ms which makes for easy timing.
User inputs include 6 buttons, an accelerometer, and the camera and outputs include a 128×128 color OLED screen and one white LED (the camera "flash") plus the data buses described in the hardware section above. The processor is very fast and there is a lot of flash and RAM available.
Get Started and Consider Teaming Up!
A great idea is always the hardest part of any hack. Start throwing around some ideas on the Superconference Chat.