It was reported, and Hackaday has now confirmed, that counterfeit Benchoff Bucks were being circulated at this weekend's Hackaday Superconference.
The fake bills were distinguishable by their poor printing quality and vastly smaller size than official 'Bucks. Their appearance should help to relieve the skyrocketing value of the Benchoff Buck, whose dominance as the preferred paper currency at hardware conferences has caused deflationary forces to take hold as 'Bucks holders hoard them.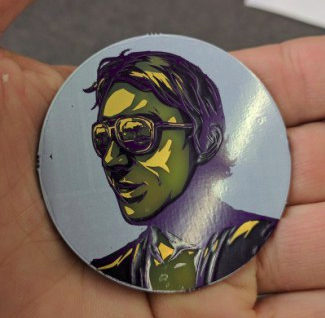 Hackaday's resident economists hope that the appearance of the counterfeits will begin to devalue the currency. Diminishing the strength of Benchoff Bucks has long been the goal for the portion of the Hackaday community who believe we need to move off of fiat Benchoff currency in favor of Benchoff-based cryptocurrency.
We anticipate seeing the long-rumored ICO early in 2018, likely in conjunction with other live Hackaday events. No word yet on the name of the new cryptocoins, but it is worth mentioning that the 'Benchoff Nickel' has already been taken.
After an exhaustive investigation, the forger has been identified. They were given a pat on the back, a firm handshake, and charged with the responsibility of documenting the forgery effort as a Hackaday.io project. You know who you are… and we have our eye on you.
Stay tuned for reports on other shenanigans that took place at the Hackaday Superconference over the weekend. In the meantime, you can check out some of the epic talks that were live-streamed as they happened.