In July of 2016 a game was released that quickly spread to every corner of the planet. Pokemon Go was an Augmented Reality game that used a smart phone's GPS location and camera to place virtual creatures into the person's real location. The game was praised for its creativity and was one of the most popular and profitable apps in 2016. It's been download over 500 million times since.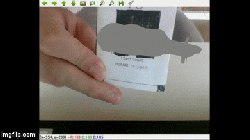 Most of its users were probably unaware that they were flirting with a new and upcoming technology called Augmented Reality. A few day ago, [floz] submitted to us a blog from a student who is clearly very aware of what this technology is and what it can do. So aware in fact that they made their own Augmented Reality system with Python and OpenCV.
In the first part of a multi-part series – the student (we don't know their name) walks you through the basic structure of making a virtual object appear on a real world object through a camera. He 0r she gets into some fairly dense math, so you might want to wait until you have a spare hour or two before digging into this one.
Thanks to [floz] for the tip!