It was the dawn of the personal computer age, a time when Apple IIs, Tandy TRS-80s, Commodore PETs, the Atari 400 and 800, and others had made significant inroads into schools and people's homes. But IBM, whose name was synonymous with computers, was nowhere to be seen. And yet within a few years, the IBM PC would be the dominant player.
Those of us who were around at the time cherished one of those early non-IBM computers, and as the IBM PC came out, either respected it, looked down on it, or did both. But now, unless your desktop machine is a Mac, you probably own a computer that owes its basic design to the first IBM PC.
The Slow Moving Elephant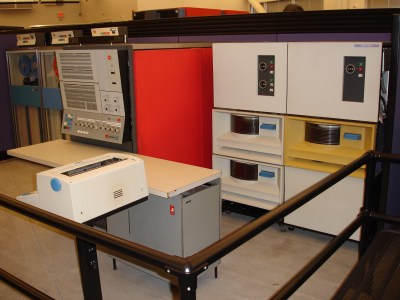 In the 1960s and 1970s, the room-filling mainframe was the leading computing platform and the IBM System/360 held a strong position in that field. But sales in 1979 in the personal computer market were $150 million and were projected to increase 40% in 1980. That was enough for IBM to take notice. And they'd have to come up with something fast.
Fast, however, wasn't something people felt IBM could do. Decisions were made through committees, resulting in such a slow decision process that one employee observed, "that it would take at least nine months to ship an empty box." And one analyst famously said, "IBM bringing out a personal computer would be like teaching an elephant to tap dance."
And yet, in just a few short years, IBM PCs dominated the personal computer market and the majority of today's desktops can trace their design back to the first IBM PC. With even more built-in barriers which we cover below, how did the slow-moving elephant make this happen?
Doing It In A Non-IBM Way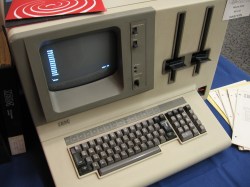 Much of the push for a personal computer came from executive Bill Lowe and other IBMers who had been working on the IBM 5100 and 5120, IBM's minicomputers that fit on a desktop but were too pricey for consumers. Consulting computer dealers about PCs, Lowe was told that store employees would have to be able to make repairs and that it must be made of standard parts. This was very much in contrast to the way IBM did things. IBM's approach had long been a cradle-to-grave bundling of engineering, sales, installation, software design, and maintenance.
Despite IBM's reputation for moving slowly, bursts of rapid development were possible in the company. The IBM 5110 had gone from conception to production in only 90 days. But even with the 5100 and other minicomputers, they'd failed to dominate the market giving way to Digital Equipment Corp (DEC) and Data General. And so IBM began to establish what amounted to little companies within IBM, called Independent Business Units (IBUs).
In 1980, Lowe discussed a proposal with IBM President John Opel, CEO Frank Cary and the Corporate Management Committee (CMC) to base a PC on the Atari 800. But instead, the committee allowed Lowe to form an independent group within IBM to develop IBM's own PC from scratch. The group consisted of a dozen employees in Boca Raton, Florida, led by Bill Sydnes, who'd had managed the rapid, 90-day development of the 5110. They were tasked to develop a prototype in 30 days.
The first wire-wrapped prototype was completed in less time than that and presented to the CMC in August 1980. The group also delivered a business plan and it was that which convinced the committee to go further. Some of the plan's main points were as follows: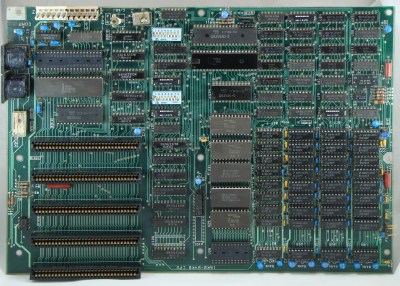 It would have an open architecture, a decision influenced by many IBM employees who were themselves users of the Apple II, which had expansion slots inside.
It would be sold in retail stores.
It would use industry standard parts. This was necessitated by the need to make something that would work well, have a low risk, and which store employees could repair. That also meant using an off-the-shelf processor.
That processor would be the 8-bit 8088 instead of the 8086. The 8086 was deemed too powerful and would compete against existing IBM products. Also, Intel could provide the 8088 at a lower price and in larger quantities, and the 8-bit bus made the computer cheaper.
Most of this flew in the face of IBM's cradle-to-grave approach, but the committee agreed that it was the plan that was most likely to succeed. And so in October, the group was turned into an IBU codenamed "Project Chess" tasked with producing the "Acorn" by August 1981, less than a year later. Lowe was promoted and Don Estridge took over leading the group.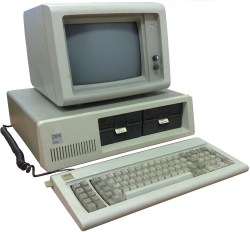 The approach to the software also departed from the IBM way of doing things. They decided to license Microsoft BASIC instead of using their own BASIC used on their mainframes. One reason was that Microsoft's BASIC already had hundreds of thousands of users worldwide.
The OSes came from Microsoft and Digital Research. Microsoft licensed the rights to 86-DOS from Seattle Computer Products and offered to supply it to IBM. The IBM branded version was named PC-DOS while Microsoft's was MS-DOS. From Digital Research came CP/M but IBM sold PC-DOS for far less than CP/M and so PC-DOS won the market.
On August 12, 1981, the Boca Raton group met their deadline and IBM announced the IBM PC.
Marketing Like Apple
It was priced to compete with Apple and other personal computers. The cost for the basic 16K RAM machine with the Color Graphics Adapter but no disk drive was $1565. The 48K Apple II with disk drive was around $2800, but once you added up the cost of a comparable 48K IBM PC with disk drive and game adapter, the price was similar at $2630.
To take advantage of the IBM name, the initial ads used phrases such as "Presenting the IBM of Personal Computers" and "My own IBM computer. Imagine that". But that was followed by far more personal, and friendly ads using Charlie Chaplin's The Little Tramp character and based on Chaplin's films. They were simple, most with clean white backgrounds with Chaplin, the IBM PC and a red rose dominating the frame.
In keeping with the non-IBM approach, IBM didn't produce its own software for the PC until 1984. Instead, launch titles included leading third-party software at the time: spreadsheet VisiCalc, accounting software PeachTree, and EasyWriter which was originally written for the Apple II.
Distribution was done through IBM Product Centers. But after studying Apple's distribution network, it also sold through outside retail outlets such as ComputerLand and Sears Roebuck.
In the first year, they'd sold fewer than 100,000 units. By the end of 1982, one PC per minute was being sold during business hours, and by the end of 1983, 750,000 had been sold. IBM's PC revenue had reached $4 billion by 1984, a far cry from the $150 million dollars total personal computer market size of 1979. By 1984, the IBM PC and clones made by other companies copying the PC had become the number one personal computer.
Why Did It Sell?
Did the IBM name make it sell, or was it the non-IBMness of the product, the open hardware, and software approach?
For the corporate customers, it seems to have been the name. Many of them had IBM mainframes and were used to IBM's high quality service, and so they were comfortable with going with the IBM PC. A popular saying was that "No one ever got fired for buying IBM".
On the other hand, due to the quality and quantity of documentation and support which IBM provided for the PC, one year after it hit the market there were 753 software packages available. Most of the major software houses were adapting their products to run on the PC. On the hardware side, IBM didn't release a hard disk for two years but 3rd party hard disk subsystems were available in ComputerLand stores during the introduction in 1981. By November, Tecmar, a PC enhancements products manufacturer had 20 products including memory expansion, data acquisition, and external hard drives.
Getting Personal
Drawing from personal experience, I was a TRS-80 Color Computer owner in 1981. When taking a break from University, I could be found at Radio Shack with other CoCo enthusiasts showing off software we'd written, and examining the latest games and hardware. But invariably I'd head a few doors down to the IBM Product Center to check out the latest on the IBM PC. Why? Because it was IBM and I felt that even though the screen was a boring green on black, and the case was nowhere as sleek as either the CoCo or the Apple II, giving it all the attractiveness of a brick, I felt that IBM was a force that could not be ignored. Within a few years, I was programming on contract in Pascal and dBase on an IBM PC AT. Other than for small PowerPC, ARM and AVR based boards, IBM PCs, their clones and their descendants are all I've used since.
Why do I continue to buy PCs? There's a huge variety of available hardware along with the software, both for sale and for free. If I have a problem then the solution from the online support community is only a few clicks away. All of that results from IBM's initial decision to go with openness, and as a result, I see no reason to change.
What about you? Do you have stories of the days before or during the introduction of the IBM PC? If so, which one of the pre-PC personal computers did you use and how did you feel when IBM entered the market? Do you use a desktop at all these days? Being a hardware hacker we have to assume you have a keyboard machine of some sort for that occasional coding.