Television has been around for a long time, but what we point to and call a TV these days is a completely different object from what consumers first fell in love with. This video of RCA factory tours from the 1950s drives home how foreign the old designs are to modern eyes.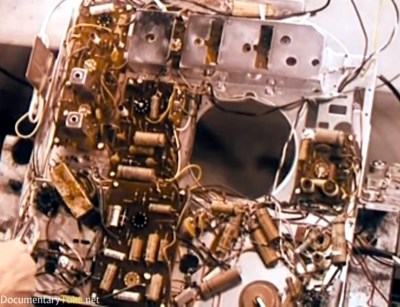 Right from the start the apparent chaos of the circuitry is mindboggling, with some components on circuit boards but many being wired point-to-point. The narrator even makes comments on the "new technique for making electrical connections" that uses a wire wrapping gun. The claim is that this is cleaner, faster, and neater than soldering. ([Bil Herd] might agree.) Not all of the methods are lost in today's manufacturing though. The hand-stuffing and wave soldering of PCBs is still used on lower-cost goods, and frequently with power supplies (at least the ones where space isn't at a premium).
It's no surprise when talking about 60+ year-old-designs that these were tube televisions. But this goes beyond the Cathode Ray Tube (CRT) that generates the picture. They are using vacuum tubes, and a good portion of the video delves into the manufacture and testing of them. You'll get a glimpse of this at 3:20, but what you really want to see is the automated testing machine at 4:30. Each tube travels along a specialized conveyor where the testing goes so far as to give a  few automated whacks from corks on the ends of actuators. As the tube gauntlet progresses, we see the "aging" process (around 6:00) when each tube is run at 3-4 times the rated filament voltages. Wild!
There's a segment detailing the manufacture of the CRT tubes as well, although these color tubes don't seem to be for the model of TV being followed during the rest of the films. At about 7:07 they call them "Color Kinescopes", an early name for RCA's CRT technology.
During the factory tours we get the overwhelming feeling that this manufacturing is more related to automotive than modern electronic. These were the days when televisions (and radios) were more like pieces of furniture, and seeing the hulking chassis transported by hanging conveyors is just one part of it. The enclosure plant is churning out legions of identical wooden consoles. This begins at 11:55 and the automation shown is very similar to what we'd expect to see today. It seems woodworking efficiency was already a solved problem in the '50s.