"If I have seen further than others, it is by standing upon the shoulders of giants." This famous quote by Isaac Newton points to an axiom that lies at the heart of The Sciences — knowledge precedes knowledge.
What we know today is entirely based upon what we learned in the past. This general pattern is echoed throughout recorded history by the revelation of one scientific mystery leading to other mysteries… other more compounding questions. In the vast majority of cases these mysteries and other questions are sprung from the source of an experiment with an unexpected outcome sparking the question: "why the hell did it do that?" This leads to more experiments which creates even more questions and next thing you know we go from moving around on horse-drawn carriages to landing drones on Mars in a few generations.
The observant of you will have noticed that I preceded a statement above with "the vast majority of cases." Apart from particle physics, almost all scientific discovery throughout recorded history has been made via experiment and observation. There are a few, however, that have been discovered hidden within the confines of an equation, only later to be confirmed with observation. One such discovery is the Black Hole, and how it was stumbled upon on a dusty chalkboard in the early 1900s will be the focal point of today's article.
Only A Mathematical Hypothesis
This was what Einstein had to say on the subject of Black Holes:
The essential results of this investigation is a clear understanding as to why 'Schwarzschild singularities' do not exist in physical reality.
He believed them to be only a "mathematical hypothesis." It was not one of his finest papers, that's for certain. Those of you who are learned of his views on quantum theory will not be surprised that he took such a formal vantage point. But before we get into that, let us backtrack to a point where it all began.
Einstein's general relativity was a giant leap forward in our understanding of gravity. Newton's theory worked, but it was unable to explain how the force originated and it failed under a handful of observable events — such as the perihelion orbit of Mercury. Einstein realized that gravity had the peculiar property of disappearing under its own effect. After looking at free-fall very carefully, he was able to explain the origin of gravity by giving space geometric properties. The presence of mass changes the geometric properties of the space around it. We sense this change as gravity.
General relativity explained mercury's odd orbit and was all but confirmed during a 1919 solar eclipse when the bending of starlight (as it passed the curved space around the sun) was measured by an amount precisely predicted by the theory. Einstein and his theory shot to stardom, but it would not last long. For in the summer of 1916, a physicists managed to use general relativity's intimidating field equations to calculate the curved space around a star to an exact solution. And what he found hidden deep within the complex math would send the whole of the theory crashing in on itself. This man's name was Karl Schwarzschild.
The Schwarzschild Singularity
General Relativity was still hot off the press when Karl Schwarzschild was able to use it to find a solution that would calculate the space-time curvature around a single stationary point. The small amounts of angular momentum possessed by planets and stars would not hinder his equation's ability to be applied to them. The Swartzschild Metric was used to calculate the sun's space-time curvature and was confirmed during the 1919 solar eclipse. While the mathematics of the equation are complicated and well beyond the scope of this article, we can still use it to understand some basic properties of space-time around a massive object. Or more importantly, to see what happens to them under certain 'extreme' conditions.

The two variables we're to be concerned with are "r" and "rs".
r = coordinate of a sphere around a massive point.
rs = scalar factor of r with respect to the point's mass, and is equal to 2GM/c2
The variable rs is also known as the Schwarzschild Radius, and is quite interesting when you apply some pressure to it. We have two things going on here: mass and radius.
If you keep cranking up the mass while dialing down the radius, at some point the space-time curvature becomes so great that light will not be able to leave the point. This occurs when rs = r.
If you have
and rs is equal to r, you have a NaN.
The technical term for this is known mathematically as a singularity. What you know as the "singularity" at the center of a Black Hole stems from this relatively simple math.
Once the Schwarzschild radius is equal to the radius of the point in question, a Black Hole is formed. Theoretically, any massive object can become a Black Hole. The Schwarzschild radius of the Earth is about 9mm. So if you compress the radius of the earth to smaller than 9mm, the space-time curvature would become so great that no light would be emitted from it, as it would curve back in on itself. This is where the idea and name of the Black Hole originated — extreme space-time curvature as the result of a singularity within the Schwarzschild metric.
Meet Jocelyn Bell Burnell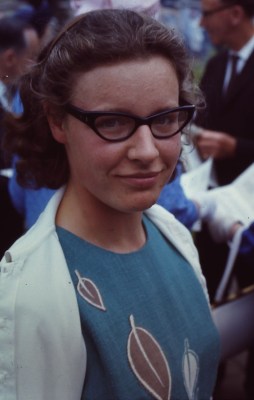 At this point in time of the early 1900s, it was not believed that instances of Schwarzschild singularities could actually exist in nature. Singularities within equations are common, and this was purely a mathematical problem that Einstein had yet to solve. But as time passed without a solution, general relativity began to take on the reputation as an incomplete theory of gravity. It would stay this way for several decades, and sadly Einstein would not live to see its vindication. It wasn't until 1967 when a graduate student made a discovery that would change everything.
Jocelyn Bell Burnell was a graduate student at Cambridge pursuing her Doctorate in radio astronomy. She and fellow students hand built a 4-acre radio telescope over the course of two years. When it came time to turn it on, what she found would launch her name into the annals of astronomical history. What showed up as regular, concise "beeps" on her graphical printer turned out to be the discovery of the first pulsar. Pulsars are neutron stars — stars so large that their collapse compromises the atoms themselves, forcing electrons into protons, leaving nothing but a big ball of neutrons left over. The mass remains the same, however, making neutron stars some of the most dense objects in the universe. With the discovery of the pulsar, the idea of Black Holes being real objects began to take foot in the halls of universities and observatories around the world. The hunt was on.
Black Holes Are Real, But Many Questions Remain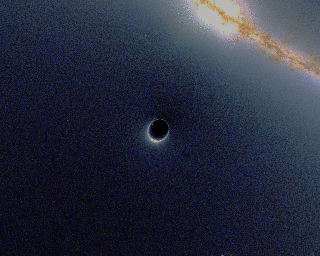 From this point forward, evidence of Black Holes began to pop up everywhere. They are believed to be at the heart of spiral galaxies, such as our own. A few years ago, the first gravitational waves were detected — emitted from the collision of two Black Holes. This year, the Event Horizons Telescope is hoping to produce an actual image of an event horizon, a non-physical location defined by the Schwarzschild radius.
There are still many questions about what goes on beyond that radius, however. Time plays a big role in this as time in and near a Black Hole is heavily dilated from our vantage point. But to the observer in the Black Hole, everything seems normal (all things considered). To us, a Black Hole appears virtually frozen in time — seconds passing within it are perceived as billions of years outside of it . There is also the question of mass. Black Holes are akin to giant galactic vacuum cleaners. What happens to all the mass that a Black Hole acquires?
The most interesting question is that of a more fundamental one. How does a mathematical singularity exist in our reality? How does one of the most massive objects in space become an "infinitely small point"… a point where nature figuratively divides itself by zero. Black Holes exist at the edge of our reality and outside the boundaries of our ability to logically describe. They are where physics ends, and speculation begins. So let's speculate away in the comments! Free t-shirt to the first person who calculates the Schwarzschild radius of a Raspberry Pi!