Hackaday.io user [peterquinn] has encountered a problem with his recently unruly cat peeing under the dining table. Recognizing that the household cat's natural enemy is the spray bottle, he built an automatic cat sprayer to deter her antics.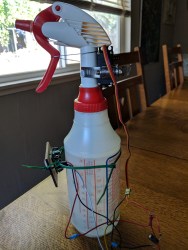 The build is clear-cut: an Arduino Uno clone for a brain, an MG995 servo, PIR sensor, spray bottle, and assorted electronics components. [peterquinn] attached the servo to the spray bottle with a hose clamp — ensuring that the zero position is pointing at the trigger — and running a piece of cabling around the trigger that the servo will tug on. Adding a capacitor proved necessary after frying the first Uno clone, as the servo powering up would cause the Uno to reset.
The code is set up to trigger the servo — spraying the cat twice — once the PIR detects the cat for more than ten seconds. After toying with a few options, [peterquinn] is using a 9V, 2A power supply that works just fine. For now, he hopes the auto-sprayer should do the trick. If it somehow doesn't work, [peterquinn] has mused that a drastic upgrade to the vacuum may be necessary.