The Trenton Computer Festival (TCF) doesn't have the name recognition of big technology conferences like DEF CON or HOPE. It's not even as well known as smaller more localized conferences like DerbyCon, ShmooCon, or the Hackaday Superconference. In fact, there's a good chance that most readers have never even heard of TCF. But despite not holding a place in the hacker lexicon, TCF has plenty to boast about. Its played host to technology luminaries from Bill Gates to Richard Stallman, and now in its 43rd year, holds the title as the longest continually running technology festival in the world.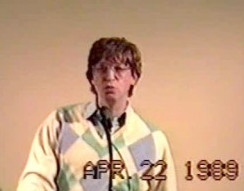 When originally conceived in 1976, the show was devoted to the dawning age of the personal computer, but since then has evolved into a celebration of technology as a whole. When TCF kicks off on March 17th, there won't be a media blitz or huge corporate sponsorship. There won't be a simultaneous online stream of the event, and the only badges worn by speakers or attendees will be of the paper variety.
What you will find at TCF is a full schedule of talks given by people who are passionate about technology in its varied forms. These run the gamut from quantum computing to lock picking, from Arduino to Space Shuttle avionics.
At the heart of TCF is co-founder and current Chair Dr Allen Katz. I recently had the opportunity to speak with Dr Katz about the challenges of running a conference of this type, and the secret to keeping relevant in a wildly changing technology landscape.
Birth of the Personal Computer
Running a successful technology conference is a challenge in itself, but managing to do it for four decades is something else entirely. You'd think that after doing it for so long Dr Katz might be getting bored of talking about it, but not more than five minutes after I emailed him about answering some questions for Hackaday, he responded with his personal phone number and told me to give him a call.
Dr Katz speaks very fondly of the early days of TCF, when personal computers weren't something you could just go to the Best Buy and pick up. TCF started in the era of home-built computers like the Altair 8800 and the Apple I, and served as much as a venue for vendors to sell their computer kits as it did a place to find like minded individuals and swap ideas and tips.
At a time when most computer kits were purchased from mail order catalogs, Dr Katz attributes the success of the show on the desire of early computer builders to meet face to face. "The ability to bring people together, that personal contact, I think had value."
As personal computers grew in popularity, so too did the Trenton Computer Festival. By the time Bill Gates came to give the keynote in 1989, the show was drawing around 12K attendees, and it had started to become a problem. "We got kicked out of The College of New Jersey in 1990″, Dr Katz recalls. "The township said you can't run the show, it's a public safety issue. People couldn't get through the streets."
Eventually TCF moved to the New Jersey Convention & Exposition Center in Edison, and became part of the popular "computer show" circuit. Before online sales took over, shows like these provided vendors a chance to offer their latest and greatest hardware directly to computer enthusiasts without the markup of the electronics stores. But this era was to be short lived, and by the early 2000's more and more people were simply buying their hardware online.
"We saw a tremendous drop when eBay and online sales came in," Dr Katz says. "You don't have these computer shows every weekend like you used to, because the crowds aren't there."
A New Direction
By 2005, TCF had come full circle and returned to the TCNJ campus, but this time with a renewed mission. It was clear simply being a venue for buying and selling computer hardware was no longer viable, so the show would need to become something more. Offer something that you couldn't get when you bought a motherboard or processor online.
"It's never going to be like it was. The college is in education, its prime motive is to educate, and that's what we've tried to do that never was in the old days. The main reason people came to the festival was for the buying experience. We try to maintain, as well as we can, the buying experience. We go and see vendors and exhibits. But at the same time, I think people are more willing to come in and attend something that's educational."
TCF would retain its vendor area, albeit in a much reduced form, and begin to feature more and more technical talks and demonstrations. But the changing nature of TCF, and in many ways the technology community, was not without consequence. When asked about how the change in format impacted the show's popularity, Dr Katz says they still draw enough of a crowd to keep everyone happy. "We're attracting now about 800 people. Respectable. We run a lot of things in parallel, I check on all the talks. We're really able to run a wide program. The talks fill up and the speakers aren't upset. You don't want to bring a speaker in and have four or five people show up."
Evolving Content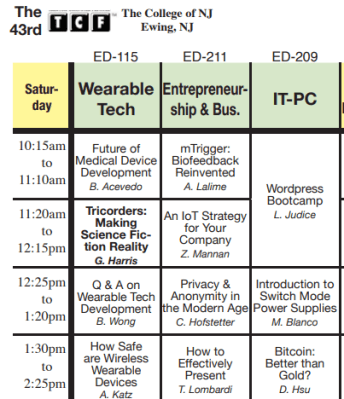 You have to wonder what TCF attendees in 1976 would have thought if they could've peered into the future to see the types of talks it would be playing host to one day. Even after all of these years running the show, you can hear the excitement in Dr Katz's voice as he describes talks and demonstrations which would have sounded like science fiction when he founded TCF. With a laugh he quips, "Who would've thought we'd be talking about tricorders in 2018?"
The schedule of talks this year include cutting edge topics like cryptocurrency and the latest developments in artificial intelligence, and it's easy to forget that TCF has been running since before many of these speakers were even born. "We've tried to broaden it so it's not just computers," Dr Katz says. "It's really related to emerging technologies that tie in with digital electronics."
Dr Katz explains that one of the things they are trying to do is bring in more varied presentations to keep things fresh. But it hasn't always been easy. When the New Jersey chapter of TOOOL approached him in 2016 about doing live demonstrations of lock picking, he had his doubts. "I never would have thought the lock picking would have worked," Dr Katz admits. "But it's turned out to be very popular, there were a lot of people who told me they really enjoyed it."
Looking Ahead
Even after 43 years, there are aspects of TCF that Dr Katz says could be improved upon. While they are often requested, there are currently no recordings made of the TCF presentations. The desire is there, but a lack of funding and volunteers has so far made it impossible to document the presentations with the level of quality they deserve. Though he's quick to point out that anyone looking to record the presentations on their own is more than welcome to do so if the speaker has no objections.
Dr Katz also says he'd like to see greater involvement from the next generation. "We need to bring in younger people, who have different ideas than the people who've run it for 40 years." While they've certainly made progress, he believes they could always do better. He'd especially like to see more TCNJ students in attendance, but admits that due to the show happening during spring break, school is likely the last place most of them would want to hang out.
But above all, the biggest goal is simply to keep finding content that enthralls attendees. The Trenton Computer Festival will never be the biggest or flashiest technology conference, but that's never been the goal. So long as the speakers are happy and the attendees are learning, Dr Katz says the show will go on.