[Rob Clarke] needed a mount for his off-brand action camera, but it's not exactly the kind of thing with a bustling accessory market. To make matters worse, it turns out the camera is so low-key that he couldn't find a 3D printable mount for it either. Luckily, a check with his calipers confirmed his camera is just about the same size as an old GoPro Hero 3, so all he had to do was modify an existing design to fit his needs.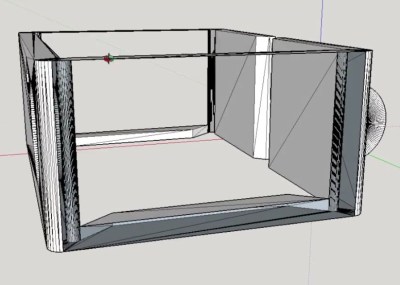 As anyone who's worked with STL files will tell you, they are a pain to modify. An STL is essentially a completed solid model, and not really meant to be fiddled around with. It's a bit like trying to take an edited image and get back to the layers that were used to create it in Photoshop or GIMP. The final output has been "flattened", so that granular control is lost.
That being said, [Rob] got rather lucky in this case. He found a GoPro mount that was about 90% there, he just needed to adjust the depth and change the positioning of the holes on the side. He loaded the STL into SketchUp, deleted the two sides, and replaced them with new surfaces. This gave him a clean slate to add the appropriate openings for his camera's USB port and microSD card. To adjust the depth of the mount, he simply stretched the model out on the Z axis.
[Rob] event went ahead and released his modified STLs as a remix of the original case he found on Thingiverse for anyone else that has the same camera. That's what we love to see.
If you're interested in learning more about using SketchUp for designing 3D printed parts, check out this excellent guide by our very own [Brian Benchoff].