If you've ever taken a coast-to-coast car trip across the United States, the one thing that's sure to impress you is the mind-bogglingly immense amount of corn that we grow here. If you take the northern route — I've done it seven times, so I know it by heart — you'll see almost nothing but corn from Ohio to Montana. The size of the fields is simply staggering, and you're left wondering, "Do we really eat all this corn?"
The simple answer is no, we don't. We grow way more corn than we can eat or, once turned into alcohol, drink. We do feed a lot to animals, many of which subsequently end up as burgers or pork chops. But even after all that, and after accounting for exports, we still have a heck of a lot of corn to put to work. There are lots of industrial uses for this surplus corn, though, and chances are pretty good you've got an ear or two worth coiled up next to your 3D-printer, in the form of polylactic acid, or PLA.
Forget the Fossils
Most of us give little thought to where plastics come from, and those that do are more likely than not to assume that plastics come from petroleum. For most of the history of the polymer industry, that was a safe bet, but with the relatively recent introduction of engineered bioplastics, the industry had a new feedstock: recently deceased plants rather than fossilized ones. (This doesn't include biopolymers taken from nature, like cellulose and latex, that are used more or less directly; Mother Nature is a surprisingly good polymer chemist.)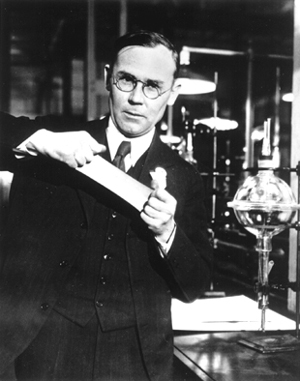 Whether a biopolymer is naturally occurring or synthesized industrially, the basic principles are the same. All polymers are made up of small, repeating units, called monomers, that are linked together chemically into long chains. A simple example of a non-biopolymer is polyethylene, where the monomers are the two-carbon alkene ethylene. The properties of the monomers, their numbers, and the configuration of the chains largely determine the characteristics of the resulting plastic, and the huge number of combinations of these factors leads to the incredible diversity of polymers in use today.
While polylactic acid — which is more correctly styled "poly(lactic acid)" since the monomer is lactic acid — has come into widespread only relatively recently, its history stretches back to the 1930s. Unsurprisingly, it was yet another product the E.I. du Pont de Nemours Company's sprawling research labs in Wilmington, Delaware. That it also was the brainchild of Wallace Carothers, the troubled genius responsible for Nylon and Neoprene, is perhaps a bit surprising, since those synthetic polymers were made from petrochemicals such as coal tar and acetylene. Carothers played with the synthesis and managed to make PLA in the lab, but he was never able to come up with a commercially viable process to produce it. PLA remained a niche polymer for decades, so much so that DuPont never even bothered to patent Dr. Carother's invention until the 1950s.
Something's Cooking
Work on making PLA into a product would pick up again in the 1980s. With images of the oil embargoes of the 1970s fresh in their minds and the need for an alternative to petroleum as a feedstock for the polymer industry, husband and wife chemists Pat and Sally Gruber attacked the PLA problem, often running trial batches on their kitchen stove. They were able to come up with a method of turning corn kernels into PLA in 1989. The first batch cost $200 a pound, but the process held promise.
The commercial production process for PLA has been refined over the years, and the price per pound of PLA has dropped markedly. There are several paths to the finished resin, but it all starts with corn. The feedstock could actually be any starchy plant material that can be fermented, but given the vast piles of cornstarch produced in the USA, it's the material of choice. The starch is fermented in huge tanks in a controlled manner so as to produce lactic acid rather than ethanol. The lactic acid is either directly polymerized into PLA, or reacted with lactide, a cyclic molecule that looks like two lactic acids stuck together. The polymerization reaction produces water which must be removed either by a vacuum or by distillation. The resulting plastic is technically a polyester since the monomers are linked through ester groups.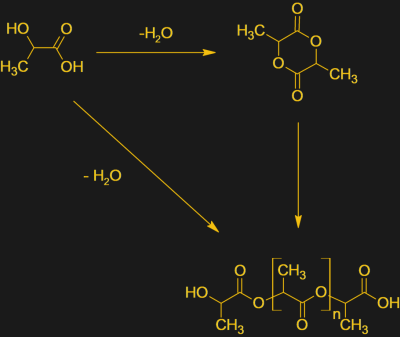 Commercially produced PLAs have a wide range of properties depending on the exact recipe used, but in general, PLA is classified as a thermoplastic. As the name implies, thermoplastics soften and melt above a characteristic temperature, solidifying again under that temperature. Thermosetting plastics, on the other hand, do not melt and just decompose above a certain temperature. Thermoplasticity is obviously important for 3D-printing filament, but it also makes PLA a candidate for replacing petroleum-based plastics in a wide range of applications.
Another big draw (and sometimes drawback) of PLA is its biodegradability. Given enough time and under the right conditions, PLA will decompose back into lactic acid, whereas most plastic will persist in the environment for much longer. This makes PLA an attractive plastic for manufacturing items that are intended for disposal, like food packaging. Deli trays and wrappers for precooked meals are a big use for PLA.
PLA is not only biodegradable, it's also biocompatible. This makes the plastic a great choice for medical implants that are intended to be absorbed by the body. Depending on the application and the location in the body, PLA (more specifically PLLA, poly-L-lactic acid, made up exclusively of the L-type enantiomers of lactide) will take up to two years for the body to break down, during which time the appliance offers support and protection during healing or acts as a framework for new tissues to grow on. This property might be key to the vaunted future of 3D-printed organs.
Given how useful the stuff is, it's surprising how long it took for PLA to become commercialized. It seems to be a case of simple economics — while petrochemicals were cheap and plentiful, there was no economic incentive to develop alternative feedstocks. Once the proper environment was created and the right minds got to work on the problem, PLA became not only an acceptable substitute for other materials, but a genuine innovation in its own right with unique properties that go way beyond churning out a Benchy or some other bauble on a 3D printer.