Wigglegrams are those weird animated pictures you've seen that seem to generate a 3D-like effect. [scealux] had built lenses to take such pictures before, but wanted to take things to the next level. Enter the Wigglegram Lens, version 2.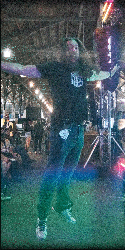 In building a new lens for the Open Sauce '23 event, [scealux] wanted to get variable aperture working, while also improving focus speed. The lens was also intended for use with a Sony A7R3. Unlike his previous effort, this lens would only work on the full-frame Sony FE mount cameras.
The lens uses a bevy of 3D printed parts, along with plastic lenses salvaged from old disposable cameras. When assembled, it takes three photos simultaneously on one single frame. They can then be reassembled into a Wigglegram by post-processing on a computer. The results are grainy and rough, but yet somehow compelling.
If you want to see [scealux]'s original build for Sony E-mount cameras, we covered it here. Video after the break.