Polish YouTuber WorkshopFromScratch finally got fed up with tripping over piles of garden detritus and decided to have a go at building a woodchipper (Video, embedded below). Since they had a 'small' 1.5kW gearmotor just lying idle (as you do) it was an obvious fit for a machine that needs torque rather than supersonic speed. The video is a fabulous 20-minute journey through the workshop showing just about every conceivable metalworking tool being used at some point.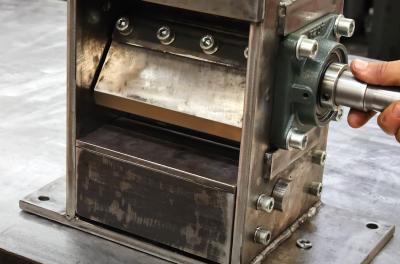 One interesting point is the bottom roller, which sits between a pair of removable guides, which should help the thing self-feed without jamming. Whether that was necessary is not for us to judge, but it can't hurt. The frame looks like it was constructed from at least 1/4″ thick steel, which is expensive if you don't happen to have a supply to hand. There's lots to see, everything from thin sheet metalworking, which was plasma cut, constructing the feed and exhaust guides, to box sections being skilfully welded at some interesting angles to make a cart to move the thing. They tell us the blades were constructed from some seriously thick slabs of C45 grade steel, but currently are not hardened. This is planned for the future, but we suspect not something that is easily achieved in the home workshop!
If this channel is familiar, then you might remember the earlier stump grinder they built. If you are drowning in sawdust, but have a log burner, then you'll appreciate this sawdust briquette machine.