For most people, the Wi-Fi hardware of today provides a perfectly satisfactory user experience. However, technology is ever-evolving, and as always, the next advancement is already around the corner. Enter Wi-Fi 7: a new standard that is set to redefine the boundaries of speed, efficiency, and connection reliability.
Wi-Fi 7 isn't just another incremental step in the world of wireless tech. It's promising drastic improvements over its predecessors. But what does it bring to the table? And how does it differ from Wi-Fi 6E, which is still relatively fresh in the market? Read on.
A Glimpse into Wi-Fi 7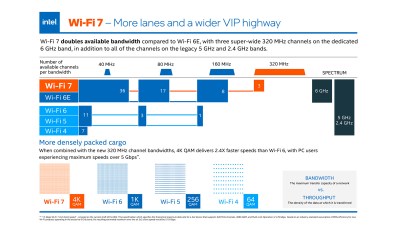 Wi-Fi 7 is recognized in the official naming convention as IEEE 802.11be. It's headline feature is speed. Wi-Fi 7 is expected to provide speeds up to up to 46,120 Mbit/s. That's over four times faster than Wi-Fi 6 and 6E, or over 4,000 times faster than 802.11b,  the first Wi-Fi standard the world fell in love with. Wi-Fi 7 is also engineered with advanced features to combat latency, bolster capacity, and enhance stability and efficiency. And while it will be backward compatible, like prior Wi-Fi standards, unlocking its full potential will require users to upgrade their devices.
For context, we can compare Wi-Fi 7 with Wi-Fi 6E, its direct predecessor. Both standards utilize the same frequency bands: 2.4 GHz, 5 GHz, and 6 GHz. Yet, Wi-Fi 7 boasts some distinct enhancements.
The additional speed of Wi-Fi 7 largely comes by virtue of wider channels, which offer more bandwidth. On the 2.4 GHz band, Wi-Fi historically uses 11 channels of 20 MHz each. Meanwhile, in the 5 GHz band, it can use 45 channels of 20 MHz each, while also ganging them together into 40 MHz and 80 MHz channels. The last standard, Wi-Fi 6E, opened up new spectrum in the 6 GHz range, with 60 channels and widths up to 160 MHz. Wi-Fi 7 goes farther again, supporting channels up to 320 MHz wide.
Such wide channels present an issue, wherein an existing signal within that range would typically make the whole channel unusable. However, Wi-Fi 7 supports a feature called "puncturing" to get around this. For example, if a 40 MHz signal was taking up a chunk of a 320 MHz channel, the puncturing feature of Wi-Fi 7 would allow the other 280 MHz of the bandwidth to still be used.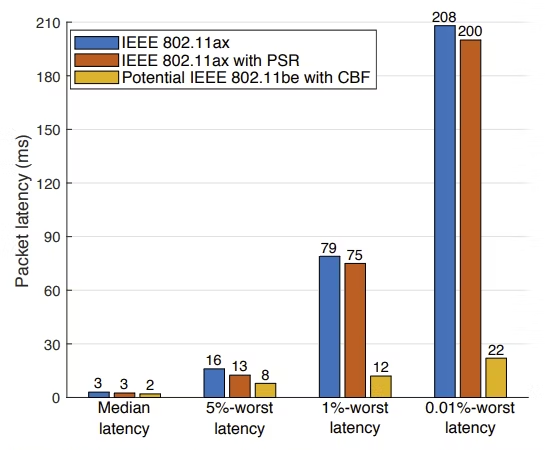 Wi-Fi 7 also improves with something called 4K-QAM. QAM, which stands for Quadrature Amplitude Modulation, is the scheme by which Wi-Fi technology turns digital data into a radio signal. It's a complex method by which the phase and amplitude of radio waves are varied to encode data. QAM techniques allow a great deal of data to be sent in a compact amount of radio spectrum. The new 4K-QAM encoding method enables Wi-Fi 7  to encode 12 bits of data per "symbol" sent over the radio link, versus 10 bits for the 1024-QAM encoding method of Wi-Fi 6. This change alone helped provide a 1.2x speed improvement compared to the previous standard.
Multi-link operation (MLO) also debuts in Wi-Fi 7. Despite past Wi-Fi standards specifying many channels spread over several frequency bands, devices always made a link over a single channel at any one time. Wi-Fi 7 opens up the possibility of running multiple channels at once, even across multiple frequency bands.  Using multiple channels and multiple frequency bands in a single aggregated connection should offer better speeds, significantly lower latency, as well as improved reliability, versus older Wi-Fi standards that had to manually switch between bands one at a time.
Techniques are also used in Wi-Fi 7 to try and bring down latency further compared to previous standards. This is of prime interest for augmented reality (AR) and virtual reality (VR) applications. This is due to the multiple delays involved in sending motion or head tracking data via Wi-Fi, with a further corresponding latency addition while waiting for updated graphical data to be sent back in response. Tens of milliseconds can spoil immersion or create visual issues, so lower latency is key. Advanced signal techniques like parameterized spatial reuse help in this regard, reducing latency by making bandwidth available in a timely fashion, while coordinated beamforming helps slash latency even further. Wi-Fi 7 won't drastically improve median latency so much, but the plan is that it should offer a substantial improvement in worst-case latency, thus offering smoother performance for demanding applications.
While Wi-Fi 7 is poised to deliver significant benefits like high-quality video streaming, seamless cloud gaming, and robust support for AR and VR applications, the new feature set also addresses common problems like congestion and interference. This will be especially beneficial for large venues or enterprises with a dense arrangement of devices.
The Road Ahead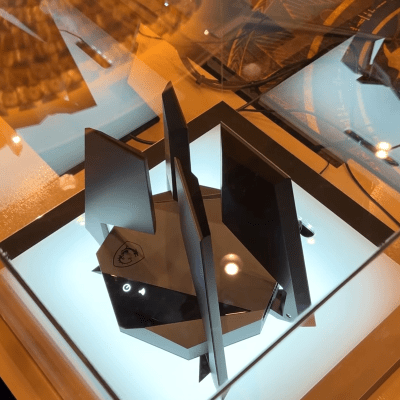 Early adopters can expect the debut of a wide range of Wi-Fi 7 routers, phones, and laptops by late 2023 or early 2024. Those in nations yet to approve 6 GHz networking devices may have to wait longer.
Some devices are already on the market, however. The OnePlus 11 smartphone already features Wi-Fi 7 thanks to its Qualcomm Snapdragon 8 Gen 2 chipset. Similarly, the Lenovo Legion Slim 7 Gen8 laptop features a MediaTek Wi-Fi 7 card.
Companies like TP-Link have already jumped on the bandwagon, announcing their Wi-Fi 7 router lineup, including the top-tier quad-band Archer BE900 which debuted in April 2023. On the device front, giants like Qualcomm, Broadcom, and MSI have showcased their Wi-Fi 7 technologies, with many other vendors expected to ship in the near future. Particularly fancy examples include the MSI RadiX BE22000 router, which uses mechanically movable antennas to provide the best possible signal at all times.
For those considering a switch, it's worth noting that the full potential of Wi-Fi 7 will be unlocked when paired with Wi-Fi 7 compatible devices. And even though Wi-Fi 7 looks promising, it doesn't signal the end for Wi-Fi 6. Both standards are set to coexist, serving as complementary technologies in the foreseeable future.
In a world that's rapidly becoming more connected, Wi-Fi 7 stands as a testament to our insatiable appetite for faster, more efficient, and reliable internet connectivity. While the majority might still be getting accustomed to Wi-Fi 6 and 6E, the horizon already holds the promise of a brighter wireless future.