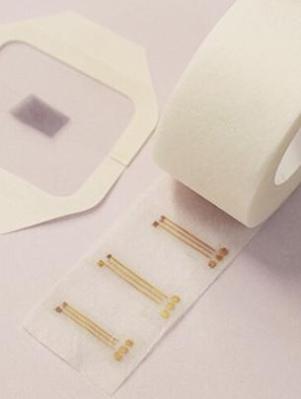 What do you do when you want to stick an electrode or even an couple of sensors to an internal organ, such as a heart? Generally you'd use some kind of special adhesive, or sutures to ensure that the item remains firmly in place and doesn't migrate to somewhere else within the chest cavity or among the intestines. According to a new study (press release) by Nan Li and colleagues in Science there may however be a more elegant method, using bioadhesive polymers.
The double-network copolymer is designed so that once put in the desired location it soaks up moisture and provides a dry interface for its bioadhesive properties. In addition, the resulting material is electrically conductive, with a measured charge-carrier mobility of ~1 square centimeter per volt per second.
Using thus manufactured electrodes were applied to both an isolated rat heart and in vivo rat muscles to measure electrical currents produced by each respective tissue type. The authors of the study envision that using this technology more complicated interfaces and sensors can be developed that would interface directly with organs and related. The claimed biocompatibility would also allow for such devices to be left in-situ for extended periods of time, which could be a boon for a wide range of medical conditions where continuous monitoring is a crucial element.