Everyone and their pet hamster probably knows that the most common way to produce hydrogen is via the electrolysis of water, but there are still a number of steps between this elementary knowledge and implementing a (mostly) automated hydrogen generator. Especially if your end goal is to create liquid hydrogen when everything is said and done. This is where [Hyperspace Pirate]'s latest absolutely not dangerous project commences, with the details covered in the recently published video.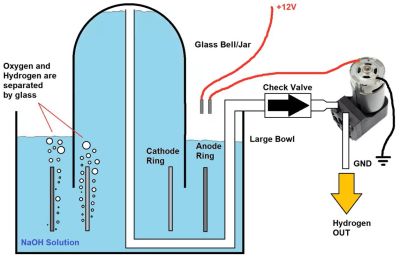 Since electrolysis cannot occur with pure water, sodium hydroxide (NaOH) is used in the solution to provide the ions. The electrodes are made of 316 stainless steel, mostly because this is cheap and good enough for this purpose. Although the original plan was to use a stacked series of electrodes with permeable membranes like in commercial electrolysers, this proved to be too much of a hassle to seal up leak-tight. Ergo the demonstrated version was attempted, where an upturned glass bell provides the barrier for the produced hydrogen and oxygen. With this system it's easy to measure the volume of the produced hydrogen due to the displaced water in the bell.
Once enough hydrogen gas is produced, a vacuum pump is triggered by a simple pair of electrodes to move the hydrogen gas to a storage container. Due to hydrogen embrittlement concerns, an aluminium tank was used rather than a steel one. Ultimately enough hydrogen gas was collected to fill a lot of party balloons, and with the provided information in the video it should be quite straightforward to reproduce the system.
Where the automation comes into play is with a control system that monitors for example how long the vacuum pump has been running, and triggers a fail safe state if it's more than a set limit. With the control system in place, [Hyperspace Pirate] was able to leave the hydrogen generator running for hours with no concerns. We're hopeful that his upcoming effort to liquify this hydrogen will be as successful, or the human-rated blimp, or whatever all this hydrogen will be used for.