The world of RC can be neatly split into two separate groups: models and toys. The RC models are generally big, complex, and as you'd imagine, more expensive. On the other hand, the RC toys are cheap and readily available. While not as powerful or capable as their more expensive siblings, they can often be a lot of fun; especially since the lower costs means a crash doesn't put too big of a ding into to your wallet.
With his latest mod, [PoppaFixIt] has attempted to bridge the gap between toy and model by sticking a considerably overpowered battery into a $10 RC truck from Amazon. He reports greatly improved performance from his hacked together truck, but anyone looking to replicate his work should understand the risks before attempting to hack up their own version.
The principle is pretty simple; the truck is designed to run on two AA batteries, providing 3 volts. But by swapping the AAs out for a 3.7 volt 1S LiPo of the type that's used in small airplanes and quadcopters, you can get an instant boost in power. As a happy side effect, the LiPo batteries are also rechargeable and fairly cheap, so you won't have to keep burning through alkaline AAs.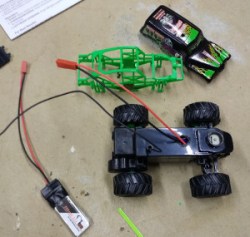 The mod itself is a basic job that only requires a few bucks in parts, and for which [PoppaFixIt] has helpfully provided Amazon links. Essentially you just crack open the truck, solder a JST connector pigtail to the positive and negative traces on the PCB, and then pop a hole in the roof to run the new battery wires out.
Right about now the RC purists are probably screaming obscenities at their displays, and not without reason. As fun as these supercharged little trucks are to drive, there are a number of real issues here which need to be mentioned.
First, while the motor will probably be alright with a bit higher voltage running through them, the gears won't be liking it one bit. In fact, [PoppaFixIt] even mentions they shredded a few gears when they tried to take one off-road. The second issue is that since these vehicles were not designed with LiPo batteries in mind, there's no low voltage cutoff to prevent over discharge. If you aren't careful, a setup like this will cook those cute little batteries in short order. But hey, at least it's all cheap.
If you are more interested in control than power, you may want to check out the previous hacks we've featured. Seems like these little RC trucks are the platform of choice for hackers who want to get stuff moving on the cheap.